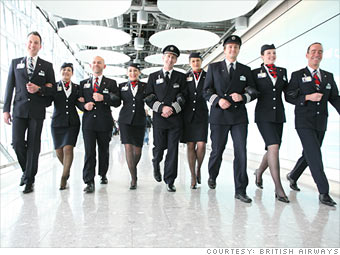 Responding to a record $595 million loss in its recently completed financial year, British Airways took the recession-inspired trend of voluntary job furloughs one step further this June and asked its 40,000 employees to work for free.
"The new unpaid work option means people can contribute to the cash-saving effort by coming to work while effectively volunteering for a small cut in base pay," explained CEO Willie Walsh. Perhaps fearing the possibility of involuntary and permanent cutbacks, about 4,000 workers agreed to take unpaid leave, some 1,400 opted to work part-time, and 800 said they would work for free for up to a month.
The chief executive himself -- who made more than $1.2 million last year and received a 6% pay hike for 2009 -- plans to work for free in July. BA's unions pointed out it was a luxury he could probably afford.
By Brian O'Keefe, Fortune senior editor
NEXT: KFC runs out of chicken
Last updated July 01 2009: 12:24 PM ET