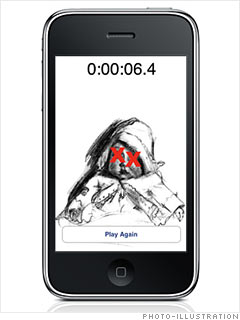 On April 22, visitors to Apple's iPhone App Store found a new -- and very twisted -- offering: "Baby Shaker." For 99 cents, you could download the "game," the object of which was to silence an animated baby's cries by shaking the iPhone until two red X's appear over the infant's eyes.
"See how long you can endure his or her adorable cries before you just have to find a way to quiet the baby down," the instructions read.
Two days later, and shortly before Apple announced its 1 billionth App Store download, the company took down the app and apologized. No word on any resulting shakeup that may have occurred in Apple's quality control department.
By David Goldman, CNNMoney.com staff writer
NEXT: John Thain's $35,000 'commode on legs'
Last updated July 01 2009: 12:24 PM ET