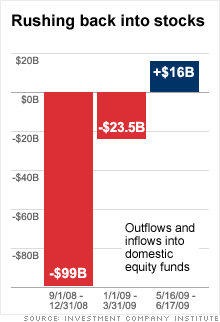 It's often said that fear and greed drive the stock market -- they also make poor market timers out of most of us. And the behavior of mutual fund investors over the past several months is just more evidence.
From September through December of last year, as the S&P 500 plummeted 30%, investors pulled some $99 billion out of domestic equity funds, according to data from the Investment Company Institute. During the first three months of 2009, they withdrew a net total of $23.5 billion more. And in March alone -- when the S&P 500 bottomed at a value of 677 on March 9 and then rallied 18% to finish at 798 -- investors withdrew $16.2 billion.
Then, just as the market began to rally, they started buying. Since the end of April -- when the S&P 500 closed 29% higher than that March 9 low -- investors have plowed $16 billion back into domestic stock funds. Time to sell?
By Brian O'Keefe, Fortune senior editor
NEXT: Bonusgate
Last updated July 01 2009: 12:24 PM ET