Why Chrysler matters
Chrysler is only a shadow of its former self, but that doesn't mean its potential closing wouldn't have a large impact on the industry and overall economy.
Photos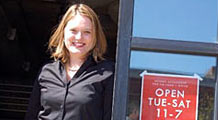 NEW YORK (CNNMoney.com) -- It's easy to think that Chrysler LLC is no longer too big to fail.
The embattled automaker has already cut its U.S. workforce by more than 60% since the start of the decade, leaving it with just under 39,000 employees in America.
To put that into context, that's only five thousand more people than electronics retailer Circuit City had when it went out of business this year -- and few thought the demise of Circuit City would cripple the economy.
Once a pillar of the Big Three, along with General Motors (GM, Fortune 500) and Ford Motor (F, Fortune 500), Chrysler now trails Toyota Motor (TM) in U.S. sales and is struggling to stay ahead of Honda Motor (HMC).
So the news that the company could be forced out of business in the next 30 days if it can't work out a combination with Italian automaker Fiat strikes some as not that big of a deal.
"This is a company we can do without at least for the next couple of years without missing its production," said Kevin Tynan, auto analyst with Argus Research.
But other industry experts say it would be wrong to underestimate how much disruption a closing of Chrysler would cause to the already struggling auto industry. A shutdown of Chrysler could also have a sizable impact on the broader economy.
A wave of bankruptcies and closures of auto parts suppliers, which employ more people than the automakers themselves, is probably inevitable if Chrysler is forced to go out of business.
That could cause production problems at even the healthiest automakers that depend upon those suppliers. Shutting down Chrysler's 3,300 dealerships would likely lead to additional job losses and economic pain that would spread to every corner of the United States.
"People thought Lehman Brothers going out of business wouldn't have that big an impact on the economy," said independent auto consultant Erich Merkle, referring to the Wall Street firm whose collapse triggered the problems in the credit and financial markets during the past six months. "Chrysler could be the Lehman Brothers of the auto industry."
Chrysler officials have been reluctant to discuss the possibility that the company is less than a month away from shutting down. They have focused instead on the government's offer to loan it $6 billion if it can work out a deal with Fiat, and the potential savings from such a combination. And they have said they are confident a deal can be reached in 30 days.
But what happens without a deal is not clear. President Obama has said that even if Chrysler or GM goes bankrupt, the government is not planning to have the companies liquidate and go out of business.
But the auto task force he set up to decide whether GM and Chrysler deserve more federal assistance have determined Chrysler is not viable as a stand alone automaker.
And many question whether an alliance with Fiat will be enough to save Chrysler. The Italian maker of small cars is hardly an industry giant either; it only sold about 5% more vehicles worldwide than Chrysler in 2008.
Even those who think the combination will help Chrysler be more competitive down the road believe it will take at least two to three years before that is the case.
"Three years is a lifetime in this industry," said Michael Robinet, vice president of global vehicle forecasts for auto consultant CSM Worldwide.
So Robinet believes the government needs to start planning for the possibility of an orderly shutdown of Chrysler in order to minimize the impact on parts suppliers and other automakers.
He and other experts say the $5 billion in federal help already announced for the auto parts industry won't be enough to stop further bankruptcies and closures.
That's because this money will only be used to back a portion of the $7 billion in payments Chrysler owes to suppliers for work already performed. It also won't cushion suppliers from the loss of business in the future, and it won't cover all suppliers.
Suppliers won't be the only ones hurt if Chrysler goes out of business. According to the turnaround plan Chrysler has filed with the government, a liquidation would leave $20 billion in health care coverage for employees, retirees and its family unpaid, as well put $2 billion in annual pension payments at risk. The closing of its dealerships would cost 140,000 jobs.
Due to the domino effect that would create, Chrysler estimates 2 million to 3 million jobs would be lost nationwide within three years, reducing household income by $150 billion a year, and cutting tax collections by an average of nearly $40 billion a year.
With all that in mind, one expert said the best reason for the government to keep Chrysler alive is that the economy and industry are too weak right now to weather even a controlled shutdown.
"If times were better, the country could absorb it," said Tom Libby, an independent auto industry researcher. "There are so many things on verge of collapsing, do you want to see how far things could go if we lose Chrysler?"

Features

These Fortune 100 employers have at least 350 openings each. What are they looking for in a new hire? More

It would be the world's second-biggest economy. See how big companies' sales stack up against GDP over the past decade. More