Stocks mixed after jobs report
Markets struggle after government reports smaller-than-expected job losses. Dow ends higher for 11th of 13 weeks.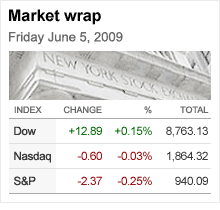 Bailout tracker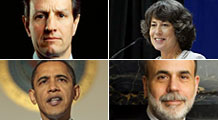 The government is engaged in a far-reaching - and expensive - effort to rescue the economy. Here's how you can keep tabs on the bailouts.
More
NEW  YORK (CNNMoney.com) -- Stocks struggled Friday at the end of another up week for Wall Street as investors welcomed a report showing that the pace of job losses is starting to slow, but showed caution after the market's recent advance.
The Dow Jones industrial average (INDU) added 13 points, or 0.1%. The S&P 500 (SPX) index lost 2 points or 0.3% and the Nasdaq composite (COMP) ended near unchanged.
Stocks had been up and down through the morning as investors digested the jobs report in the aftermath of a good run on Wall Street.
"The report was a big positive surprise," Stephen Stanley, chief economist at RBS Securities, said of Friday's better-than-expected jobs number. "We thought it would happen at some point this year, but not this soon."
He said that the report has been corroborated by other recent readings on the labor market, such as the weekly jobless claims numbers.
"I think we've probably turned the corner and seen the worst of the monthly job losses," he said. "But we're still far from a flat jobs outlook. The report shows things are still bad, but they are getting worse at a slower pace."
Bets that the economy is starting to stabilize have fueled an advance that has lifted the Dow off of 12-year lows since early March. The Dow has now gained in 11 of the last 13 weeks, adding 32.2%,. That's the Dow's best 13-week run since the period ending November 1982, according to Dow Jones market data.
Jobs report: Employers cut roughly 345,000 jobs from their payrolls in May, the Labor Department reported Friday morning, surprising economists who were expecting another 520,000 job cuts.
Employers cut a revised 504,000 jobs in April.
The report added to other recent signs that the pace of job cuts is starting to slow. However, a recovery in the labor market typically lags a broader recovery, and that was reflected by a rise in the unemployment rate.
According to a separate survey, the unemployment rate rose to 9.4%, a 26-year high, from 8.9% in April. Economists surveyed by Briefing.com were expecting it to rise to 9.2%.
Experts remain divided on whether the worst is over for the labor market. In particular, the bankruptcy filings of Chrysler and General Motors (GMGMQ) could result in more job losses.
Autos: After the close Friday, it was announced that an appeals court ruling has cleared the way for Chrysler to exit bankruptcy, probably Monday afternoon. The ruling set aside an Indiana pension fund's objections and allows Chrysler to sell a majority of its assets to a new company to be called the Chrysler Group.
The new company will be owned primarily by a United Auto Workers union trust, Italian automaker Fiat and the U.S. government.
GM will sell its Saturn brand to car dealership operator Penske Automotive Group (PAG, Fortune 500).
Earlier this week, GM sold its Hummer line to China's Sichuan Tengzhong, a machinery company. The sales are part of GM's plan to sell its four "non-core" U.S. brands, including Pontiac and Saab.
Separately, GM will reportedly help finance private equity firm Platinum Equity's purchase of bankrupt auto parts supplier Delphi Corp.
Friday is GM's last day as a Dow component. On Monday, it will be swapped with tech leader Cisco Systems (CSCO, Fortune 500).
Citigroup: The Federal Deposit Insurance Corp. is reportedly looking to shake up Citi's management, putting CEO Vikram Pandit's job at risk. The financial firm has received billions in government aid and was also recently told to raise $5.5 billion as a result of the government "stress tests."
Friday is Citi's last day as a Dow component. On Monday it will be swapped with insurance firm Travelers (TRV, Fortune 500).
Company news: In other corporate news, miner Rio Tinto has walked away from a $19.5 billion merger with Chinese company Chinalco, instead choosing to set up a joint venture with rival BHP Billiton (BHP).
Bonds: Treasury prices tumbled, raising the yield on the benchmark 10-year note to 3.83% from 3.71% Tuesday. Treasury prices and yields move in opposite directions.
Other markets: In global trading, Asian markets ended higher and most European markets ended higher.
In currency trading, the dollar gained versus the euro and yen.
U.S. light crude oil for July delivery fell 37 cents to settle at $68.44 a barrel on the New York Mercantile Exchange.
COMEX gold for August delivery slipped $19.70 to settle at $962.60 an ounce.

Features

These Fortune 100 employers have at least 350 openings each. What are they looking for in a new hire? More

It would be the world's second-biggest economy. See how big companies' sales stack up against GDP over the past decade. More