Blue chips scratch out a gain
Dow and S&P 500 gain after jobless claims, leading indicators and Philly Fed surprise economists. Nasdaq little changed.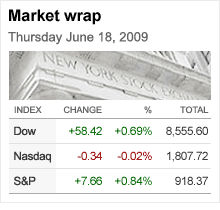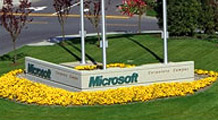 After a bleak 2008, equities are looking up. But whatever the market, our trademark long-term portfolio can help you build a nest egg for a secure future.
NEW YORK (CNNMoney.com) -- Blue chips managed to advance Thursday after encouraging signs in the day's labor market and manufacturing reports, but the gains were modest and tech selling kept the Nasdaq from joining the advance.
The Dow Jones industrial average (INDU) gained 58 points, or 0.7%. The S&P 500 (SPX) index rose 7 points, or 0.8%. The Nasdaq composite (COMP) was barely changed.
A three-month market rally has lost steam over the last week as bets that the pace of the recession is waning have turned to worries the market has gotten ahead of itself.
Reports on Thursday provided some reassurance, but stocks remain vulnerable to further pullbacks in the near term. The only economic report on tap for Friday is state-by-state unemployment reports.
"We've already priced in an end of the recession and the start of the recovery," said Bill Webb, deputy chief investment officer at Gluskin Sheff. "And with the market up 40%, it's a little bit vulnerable in the short term."
The S&P 500 rallied 40% between March 9, when it hit a 12-year low, and the end of last week. But it has pulled back so far this week. As of Thursday's close, the S&P 500 was up 35.5% off of the lows. Markets in Europe and Asia have pulled back too.
"The rally has eased up globally and investors want to lock in some gains," said Joe Arnold, founder and president of Foundation Wealth Advisors. "That's not to say it was a phantom bull run, but I think we'll see sideways trading for now."
He said after the sprint, investors are now in a transition phase as they absorb big changes in the auto industry, the banking industry and the way firms are regulated by the government.
Trading was also being influenced by quadruple options expiration, a quarterly event on a Friday in which stock index futures and options and individual stock futures and options all expire at the same time.
BlackBerry maker Research in Motion (RIMM) was likely to slide Friday morning. After the close Thursday, the company reported higher quarterly earnings that topped estimates and higher quarterly revenue that missed estimates. The company also forecast current-quarter earnings that are above forecasts and sales at the low end of forecasts. Shares slumped 5% in after-hours trading.
The Nasdaq managed gains Wednesday, but the Dow and S&P slipped after S&P cut the credit ratings on 22 banks and President Obama announced a major overhaul of the financial regulatory system.
Treasury Secretary Timothy Geithner testified before lawmakers Thursday, defending Obama's plan.
Economy: The number of Americans filing new claims for unemployment rose slightly last week to 608,000 from a revised 605,000 in the prior week, the Labor Department reported. Economists expected 604,000 claims, according to a Briefing.com survey.
But continuing claims slumped for the first time since the week ended Jan. 3. Continuing claims refer to people who have been collecting claims for a week or more.
The Philadelphia Fed index, a reading on regional manufacturing, improved to negative 2.2 from negative 22.6 last month. Economists expected a reading of negative 17. In addition, the index's measure of future activity surged to its highest level since September 2003.
An index of leading economic indicators (LEI) rose 1.2% in May, the Conference Board reported. LEI gained 1.1% in April and was expected to increase 1% last month.
Bonds: Treasury prices tumbled, raising the yield on the benchmark 10-year note to 3.83% from 3.69% Wednesday. Treasury prices and yields move in opposite directions.
Other markets: U.S. light crude oil for July delivery rose 34 cents to settle at $71.37 a barrel on the New York Mercantile Exchange.
COMEX gold for August delivery fell $1.40 to settle at $934.60 an ounce.
In currency trading, the dollar fell versus the euro and gained against the yen.
In global trading, Asian markets ended lower and European markets mostly ended higher.
Market breadth was positive and volume was moderate. On the New York Stock Exchange, winners topped losers four to three on volume of 1.09 billion shares. On the Nasdaq, advancers beat decliners seven to six on volume of almost 2.12 billion shares.

Features

These Fortune 100 employers have at least 350 openings each. What are they looking for in a new hire? More

It would be the world's second-biggest economy. See how big companies' sales stack up against GDP over the past decade. More