Dow ends at 6-month high
S&P finishes at 8-month peak as investors cheer better-than-expected quarterly results. Bernanke's comments keep gains in check.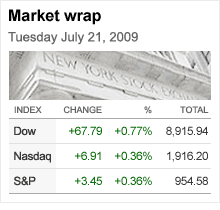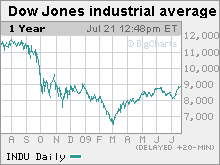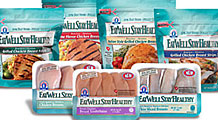 As consumers cut back, businesses are scrambling. 14 brands you know -- from an NHL hockey team to Obama's suit maker -- that are hitting the skids.
NEW YORK (CNNMoney.com) -- Stocks finished higher Tuesday -- with the Dow industrials ending at a 6-month high -- after a volatile session in which investors weighed better-than-expected corporate earnings with Federal Reserve Chairman Ben Bernanke's warning that the economic recovery would be slow.
The Dow Jones industrial average (INDU) ended up 68 points, or 0.8%, closing at its highest level since Jan. 6.
Meanwhile, the broader S&P 500 (SPX) index tacked on 3 points, or 0.4%, its highest close in 8 months.
The tech-laden Nasdaq composite (COMP) added 7 points, or 0.4%, marking the index's 10th consecutive day of gains, and the longest streak of winning sessions the Nasdaq has had in 12 years. The last time the Nasdaq posted 10 winning sessions in a row was July 1997, according to a Nasdaq spokesperson.
After the closing bell, computer and cellphone maker Apple (AAPL, Fortune 500) posted second-quarter profit of $1.35 per share on revenue of $8.34 billion. That easily beat Wall Street estimates of $1.17 per share earnings and revenue of $8.2 billion, according to a consensus estimate of analysts polled by Thomson Financial.
Apple shares rose 3% in after-hours trading.
Also after the close, search engine Yahoo (YHOO, Fortune 500) said revenue fell by 13% from the same quarter a year earlier to $1.57 billion. After taking out traffic acquisition costs, however, Yahoo posted sales of $1.14 billion, in line with analysts' expectations.
Yahoo stock slipped 4% after hours.
On Tuesday, Caterpillar (CAT, Fortune 500) rose 8% after issuing a positive outlook, although even bigger gains were pared after executives warned in a conference call that waning demand would make for a tough third quarter.
"We have made a tremendous move and a tremendous sentiment change in the last six trading days, since Monday of last week," said Kenny Landgraf, principal and founder of Kenjol Capital Management.
Market breadth was mixed. On the New York Stock Exchange, advancers beat decliners 8 to 7 on volume of 1.21 billion shares. On the Nasdaq, decliners beat advancers 5 to 4 on volume of 2.28 billion shares.
Bernanke: Fed chairman Bernanke, in prepared testimony before a House committee, said the pace of economic decline has "slowed significantly" but the labor market has gotten worse. He cautioned that improvement is uncertain and likely to be gradual going forward.
Investors paid close attention to Bernanke's testimony. "It has been an unprecedented credit crisis and they cut the rates to zero," said Landgraf. "The question is you can't leave them there for ever."
As the economy begins to recover, the central bank will have to pull back. "As things start to get engaged and you get some traction in the economy," he said, "how do you lift interest rates without snuffing out the recovery?"
Prior to his testimony, Bernanke outlined his "exit strategy" from the current low interest rate policy in a Wall Street Journal guest column. Bernanke defended the aggressive roles of the Fed and its ballooning balance sheet in the current crisis, saying "These actions have softened the economic impact of the financial crisis."
Caterpillar: Heavy equipment maker Caterpillar, a gauge of the global economy, said that it is seeing signs of stabilization in the global economy, and that global stimulus efforts -- particularly in China -- are beginning to work.
"A lot of their profits come from overseas and a lot of their expectations are driven by the emerging markets needing to grow," said Joe Clark, managing partner at Financial Enhancement Group.
For the second quarter, Caterpillar posted better-than-expected earnings on sales that fell short of expectations. However, the company said its third quarter would be tough and that it could post a loss for that period and that it would be forced to implement rolling plant closures.
Second-quarter reports: Investors were paying close attention to financial reports from the second quarter for a sense of how companies are managing to navigate the downturn.
Drugmakers Merck and the soon-to-be-acquired Schering-Plough announced second-quarter earnings before the bell. Merck (MRK, Fortune 500) reported earnings per share of 83 cents excluding charges, beating expectations of 77 cents from Thomson Reuters.
Schering (SGP, Fortune 500) reported 46 cents earnings per share excluding charges, which was close to estimates, and up slightly from 45 cents in the year-ago quarter.
On Wednesday, the drumbeat of corporate announcements continues. Investors will look for second-quarter reports from Dow component Boeing (BA, Fortune 500), as well as Delta Air Lines (DAL, Fortune 500), Morgan Stanley (MS, Fortune 500), Wells Fargo (WFC, Fortune 500), and eBay (EBAY, Fortune 500).
CIT: Investors are also watching troubled small business lender CIT (CIT, Fortune 500), which confirmed late Monday that bondholders had extended financing that will keep it afloat.
The market was generally pleased to see the private sector step up to the plate. "When we look back ten years from now," said Landgraf, and investors see that "the sector came forward and helped out their associates here, we are going to say that is a better deal than that government stepping in."
But investors remain uncertain about how long the relief will last as the company faces a difficult restructuring.
Bonds: Treasury prices jumped, with the yield on the benchmark 10-year note falling to 3.46% from 3.61% Monday. Treasury prices and yields move in opposite directions.
Other markets: In global trade, Asian stocks ended the session mixed. Major European markets ended between 1% and 2% higher.
In currency trading, the dollar gained against major currencies, including the euro, British pound and Japanese yen.
U.S. light crude oil settled up 74 cents to $64.72 a barrel on the expiration date for the August contract. The weekly crude oil inventories report from the Energy Information Administration is due Wednesday.
COMEX gold for August delivery fell $1.90 to $946.90 an ounce.
Talkback: Do you work for minimum wage? How do you make ends meet? Will the increase in the minimum wage help you? E-mail you story to realstories@cnnmoney.com, and you could be part of an upcoming article.

Features

These Fortune 100 employers have at least 350 openings each. What are they looking for in a new hire? More

It would be the world's second-biggest economy. See how big companies' sales stack up against GDP over the past decade. More