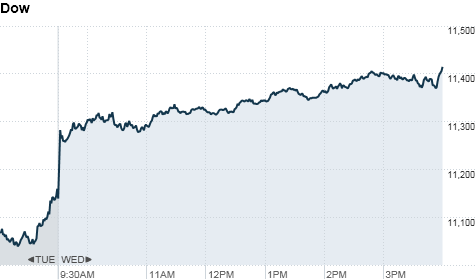 Click the chart for more stock market data.
NEW YORK (CNNMoney) -- Stocks rallied right out of the gate and picked up steam through the day to end sharply higher Wednesday. The gains came as concerns over Europe's debt crisis eased and investors geared up for President Obama's highly anticipated jobs speech Thursday evening.
The Dow Jones industrial average (INDU) surged 276 points, or 2.5%. All 30 of the blue-chip index's components posted gains. The S&P 500 (SPX) added 33 points, or 2.9%, and the Nasdaq Composite (COMP) jumped 75 points, or 3%.
Stocks got off to an ugly start in September, with all three indexes declining more than 4% during the first three trading days of the month, amid fears about Europe's money troubles and a stalling economic recovery in the United States.
After Wednesday's broad advance, the indexes are down just 1% for the month.
The renewed optimism came on the back of solid gains in stock markets around the world, after a German court ruling rejected lawsuits intended to block Germany's involvement in providing other eurozone members with bailout packages.
"The court ruling confirms [German Chancellor] Angela Merkel's ability to help bail out Europe's troubled areas, and that provides a great amount of confidence that we will see some sort of solution in Europe soon enough," said Brian Battle, director with Performance Trust Capital Partners.
But the court's decision also said that the German parliament must have a greater say in the decisions, which could slow the process.
Investors are also preparing for President Obama to unveil a new $300 billion jobs proposal Thursday evening aimed at stimulating the stagnant labor market.
While details of the plan are limited ahead of the speech, Battle said investors will be listening for measures that haven't been "pre-announced."
"There are a number of things investors are already anticipating, and they're hoping that the president will also have some sort of a surprise -- maybe more tax cuts or help for homeowners -- but it's hard to say," Battle said.
Jobs are clearly on investors' minds, especially following last week's dismal government report that showed zero job growth in August -- stoking fears of another recession.
U.S. stocks fell Tuesday, extending last week's losses, as the long-running debt crisis weighed on investor sentiment.
Economy: It's been a rough few weeks for investors as stocks have been quick to react to a series of mixed economic reports. That's resulted in a roller-coaster ride that doesn't seem to be ending anytime soon.
"Investors will be reacting to every headline, day by day," Battle said.
In the Federal Reserve's Beige Book report, a reading of the economic situation from the regional Fed banks, the central bank said "economic activity continued to expand at a modest pace," though some of the Fed's 12 districts noted "mixed or weakening" activity.
Signs of slower growth add pressure on the central bank to announce new steps to stimulate the economy followings its two-day meeting on monetary policy later this month.
Bonds: The price on the benchmark 10-year U.S. Treasury edged lower, with the yield rising to 2.02%.
On Tuesday the 10-year yield hit record lows of 1.91% in overnight trading, as investors plowed into Treasuries amid fears about a slowing U.S. economy and a deepening European debt crisis.
Currencies and commodities: The dollar was down against the euro, the Japanese yen and the British pound.
Oil for October delivery gained $3.32, or almost 4%, to settle at $89.34 a barrel.
Gold futures for December delivery fell $55.70, or 3%, to settle at $1,817.60 an ounce.
Companies: Shares of Yahoo (YHOO, Fortune 500) jumped 5.4%, after the company announced that CEO Carol Bartz was fired late Tuesday. Tim Morse, the company's chief financial officer, was named as Yahoo's interim CEO.
Also late Tuesday, Bank of America (BAC, Fortune 500) announced plans to reshape its management team by letting go of Joe Price, the president of consumer and small-business banking, and Sallie Krawcheck, president of wealth and investment management. Bank of America shares rose more than 7%.
Other financial stocks followed Bank of America's lead, with shares of Citigroup (C, Fortune 500) and JPMorgan (JPM, Fortune 500) up more than 4%. Goldman Sachs' (GS, Fortune 500) stock edged up 3.6%.
World markets: European stocks closed sharply higher. Britain's FTSE (UKX) 100 rose 3.2%, the DAX (DAX) in Germany gained 4% and France's CAC 40 (CAC40) jumped 3.4%.
Asian markets ended the session higher. The Shanghai Composite (SHCOMP) closed up 1.8%, the Hang Seng in Hong Kong (HSI) added 1.7% and Japan's Nikkei (N225) rose 2%.