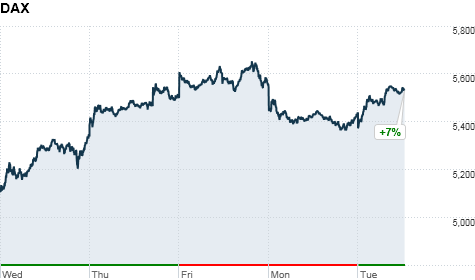 Click on chart to track world markets
NEW YORK (CNNMoney) -- World markets closed mostly higher Tuesday as some hope for resolving Greece's crisis overshadowed Standard & Poor's downgrade of Italy.
The DAX (DAX) in Frankfurt led the gains with a rise of 2.9%, as the FTSE 100 (UKX) in London added 2% and the CAC 40 (CAC40) in Paris gained 1.5%.
Asian markets closed mixed. The Hang Seng (HSI) in Hong Kong edged up 0.5% but the Nikkei (N225) in Tokyo fell 1.6%.
Discussions to provide additional bailout funds for debt-ridden Greece were expected to resume Tuesday. On Monday, Greek finance minister Evangelos Venizelos said talks to help Greece avoid default were "productive and substantive."
The boost in European markets also came from "much better than expected" bond auction results in Greece and Spain which are "helping to bolster sentiment," said Joel Kruger, technical currency strategist at FXCM.
Greece and Spain are members of the so-called PIIGS nations, a status that they share with fiscally troubled Italy, Ireland and Portugal. Investors are showing confidence because the better-than-expected performance of Greek and Spanish bond auctions outweighs the impact of S&P's downgrade of Italy, at least for now, said Kruger.
But he doesn't expect the bond auction to prop up the rally for long, referring it to as "short-term news that provides a sort of prop in the market."
"There continues to be a major problem trying to resolves the European debt crisis," said Kruger. "Any rally will be short lived."
S&P cut Italy's sovereign credit rating late Monday, blaming the nation's weakening economic growth and political uncertainty for its financial instability. S&P lowered the rating to A from A+, and kept its outlook negative for the country.
The success of the Greek bond auction came as a surprise to some traders, considering that the Greeks are trying to get more bailout funds to prop up their weak economy and many fear that the country could default on its debt payments within a month.
A default would undermine the European banking industry, which already suffered the recent downgrade of two French banks, Societe Generale and Credit Agricole. If that triggers a wave of European debt defaults and a recession, than it could spread to the U.S. economy, which is already at risk of a double-dip recession.