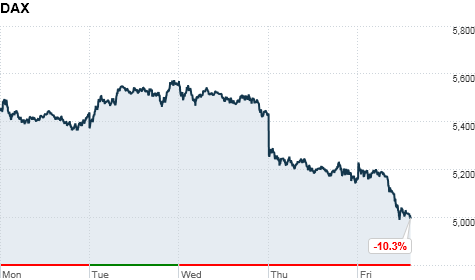 Click on chart to track markets
NEW YORK (CNNMoney) -- European markets managed to cross the finish line Friday on an updraft, after sucking wind during a mostly sorry session.
The CAC 40 (CAC40) in Paris was up 1% at the close, while London's FTSE 100 (UKX) rose 0.5% and the DAX (DAX) in Frankfurt rose 0.6%.
European stocks pulled partway out of their trough earlier in the session when the FTSE was down 2.1%, the CAC 40 dropped 2.7% and the DAX plunged 3.6%.
At that time, Marc Chandler, global head of currency strategy for Brown Brothers Harriman, said the European markets "remain wary of EU political risk and the chances of international policy coordination appear thin."
European markets were being pulled down by fears of a potential Greek default, undeterred by newly announced Greek budget cuts, before they managed their modest rally.
Asian markets, however, never recovered from their Friday slump. The Hang Seng in Hong Kong was down 1.4% at the close and Nikkei in Tokyo fell more than 2% by the closing bell.
U.S. stocks managed to shed their morning hangover and trade slightly positive during the afternoon. The S&P (SPX), the Nasdaq (COMP) and the Dow Jones (INDU) industrial average were all a bit higher.
Mark Luschini, chief investment strategist for Janney Montgomery Scott, said the lack of direction from European leaders "is troublesome for investors looking for some profound announcement coming from European officials as to what they're going to do to rectify the crisis circumstance."
"Investors just want to know, even if it's just a Band-Aid, that there's some cure that's going to be announced," said Luschini.
In the absence of a cure, European and Asian markets plunged from 2% to 5% on Thursday.
Much of the recent malaise was blamed on monthly readings, released Thursday, showing that the manufacturing industry in the eurozone, the U.K. and China was getting weaker.
Meanwhile on Friday, Moody's Investors Service announced that it was downgrading eight Greek banks.
This is after the rating agency already downgraded two large banks in France -- Credit Agricole and Societe Generale -- on Sept. 14. Moody's also downgraded major banks in the U.S., including Citibank (C, Fortune 500), Bank of America (BAC, Fortune 500) and Wells Fargo (WFC, Fortune 500).