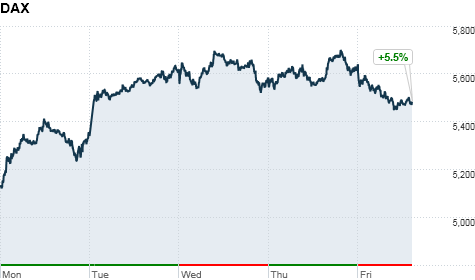 Click on chart to track markets
NEW YORK (CNNMoney) -- World markets plummeted Friday, plagued by insecurity over Europe and fears that the euro zone stability fund might not be enough to pull the Continent out of its ongoing debt crisis.
The FTSE 100 (UKX) in London was down nearly 2% at the close, while the DAX (DAX) in Frankfurt plunged 3% and the CAC 40 (CAC40) in Paris closed down more than 2%.
The drop came a day after the German Parliament voted in favor of expanding the European Financial Stability Fund to €440 billion, becoming the latest country to approve the expansion among the 17 member states.
The Austrian Parliament voted in favor of it on Friday.
"We do expect [the fund expansion] to be approved by these parliaments," wrote Deutsche Bank analysts Jim Reid and Colin Tan, referring to upcoming votes from Malta, the Netherlands and Slovakia. "But the rapid escalation of this crisis has ensured that the current version will likely be proved inadequate in the final quarter of the year."
The latest problem hanging over Europe is the rising cost of living. Eurostat, the statistical office of the European Union, said that annual inflation for the euro area rose to 3% in September from 2.5% in August.
Asian markets were also weaker. The Hang Seng (HSI) in Hong Kong plunged 2.3% at the close of trading and Toyko's Nikkei (N225) was flat.
Two factors weighing on the Chinese markets appeared to be the typhoon that washed through the country this week and a report from HSBC that showed continued stagnation in Chinese manufacturing.
"The good news is the [Chinese manufacturing] index was unchanged in September at 49.9," wrote the Deutsche Bank analysts. "But the bad news is that the series has now been below 50 for three months (which is the longest since 2009.)"