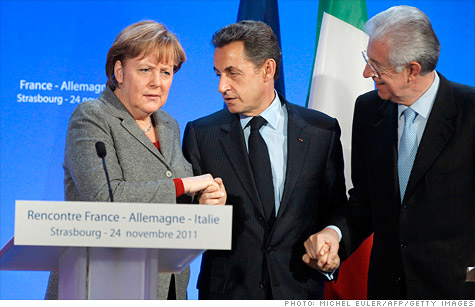 Germany's Angela Merkel, France's Nicolas Sarkozy and Italy's Mario Monti are reportedly working on a new fiscal plan for the eurozone.
NEW YORK (CNNMoney) -- European markets soared Monday, as investors shrugged off fears of economic uncertainty in favor of a dubious report that Italy could be receiving a massive bailout from the International Monetary Fund.
The IMF denied the report but that didn't stop investors from going on a buying spree anyway.
"There's enough bad news out there but it seems that at this time the IMF story beats everything else," said Christian Schulz, senior economist at Berenberg in London.
Early Monday, Italian newspaper La Stampa reported that Italy could be receiving a €600 billion cash injection from the IMF. An IMF spokesperson denied the report, telling CNN, "There are no discussions with the Italian authorities on a program for IMF financing."
The news was the initial spark behind a broad stock rally that drove up London's FTSE (UKX) by 2.9%, the DAX (DAX) in Frankfurt by more than 4.6% and the CAC 40 (CAC40) in Paris by nearly 5.3% at the close.
Adding further fuel to that rally were reports that eurozone leaders are working on a new fiscal plan for the 17 member states. While that's not exactly breaking news, it injected some renewed optimism that officials in Europe were moving in the right direction.
More details about the plan are expected to be revealed at a Dec. 9 European Commission summit, which is also the last scheduled meeting of EU leaders for 2011.
Financial shares around the globe surged. Shares of Credit Agricole jumped more than 7%, Societe Generale rose more than 3% and BNP Paribas gained 4% at the close of trading in Paris. Deutsche Bank (DB) shares surged more than 9% in U.S. trading, and were up more than 7% on the DAX.
The rising tide spread across the Atlantic to lift Wall Street banks. JPMorgan Chase (JPM, Fortune 500) and Bank of America (BAC, Fortune 500) shares rose more than 3%, while Goldman Sachs (GS, Fortune 500) was up nearly 3% and Citibank (C, Fortune 500) was up nearly 6%.
Schulz said the Italy-IMF report was also responsible for the spread between Italian and German 10-year bond yields narrowing -- a sign that crisis fears have eased.
Italian bond yields remained just above 7.2% at the close, while the yield on the 10-year German bund rose to 2.3%. Last week borrowing costs across Europe skyrocketed following a string of weak auctions.
German and Italian bonds are closely watched since those two countries are among the largest in Europe.
German debt is considered to be the most stable in the eurozone, despite a weak auction last week. Italian bonds have repeatedly climbed above 7%, a level that makes investors nervous, since that flashed the first warning signs for Ireland, Greece and Portugal, which all eventually required bailouts.
Italy, France and Belgium all held auctions Monday, and what a difference a week makes.
Italy's auctions for 6-month, 24-month and 15-year bonds garnered decent demand, though, as expected, the yields were much higher than last month's auctions.
The Belgian government auctioned off €2 billion worth of 7-, 10-, 24- and 30-year bonds. The auctions were well received, helping ease the yield on the Belgian 10-year bond to 5.57% from 5.86% on Friday.
Friday's spike came as credit rating agency Standard & Poor's downgraded Belgium, citing renewed risks to the country's financial sector.
But over the weekend, Belgian leaders reached agreement on a new fiscal budget, quelling some of those fears and paving the way for the formation of a new government.
French auctions of 3-month, 6-month and one-year bills were equally well subscribed Monday, helping ease yields on French 10-year bonds to 3.61% at the close.
There's still a long, tough road ahead.
Early Monday, the Organization for Economic Cooperation and Development called for "urgent action" to boost the global economic slump.
"Concerns about sovereign debt sustainability are becoming increasingly widespread," said the OECD in its latest economic outlook. "If not addressed, recent contagion to countries thought to have relatively solid public finances could massively escalate economic disruption."
And Moody's rang its own warning bell. "The continued rapid escalation of the euro area sovereign and banking credit crisis is threatening the credit standing of all European sovereigns."
To round out the trifecta of worry, Deutsche Bank analysts slashed their 2012 GDP expectations for the eurozone to -0.5% from +0.4%.
"The failure of the EU authorities to find a solution to the sovereign debt crisis means the downside risks are materializing," said Deutsche Bank fixed income researchers Mark Wall and Gilles Moec.