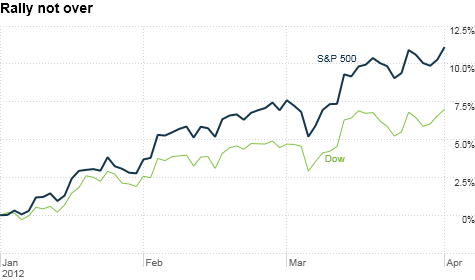 Click chart for more market data.
NEW YORK (CNNMoney) -- Despite uncertainty about the global economy and corporate profits, experts say stocks are still poised to move higher this year.
Stocks have already staged an impressive rally, with the major gauges posting their biggest first-quarter gains in over a decade. The advance has pushed the S&P 500 (SPX) its highest level in nearly five years.
The strong gains have raised speculation that the market may be due for a pullback. But traders say any so-called correction will likely be modest and provide an opportunity for longer-term investments.
"We think there's more room to run," said Kate Warne, chief investment strategist with Edward Jones. "The fundamentals have continued to move in a stronger direction in terms of earnings and economic growth."
That doesn't mean analysts think corporate earnings are going to be stellar but the fact that few companies have preannounced results suggests that earnings may beat investors' very low expectations, said Kevin Rendino, senior portfolio manager at Blackrock.
"The good news is that we can expect another slew of very solid earnings reports," he said.
However, much of the anticipated growth in the first quarter may come from the strong performance of individual companies, such as Apple (AAPL, Fortune 500), rather than broad-based improvement across Corporate America.
Overall, earnings for companies in the S&P 500 are expected to grow just under 1% in the first quarter, according to S&P Capital IQ.
That would mark a sharp slowdown from the fourth-quarter of 2011, when earnings grew more than 10%.
Companies begin reporting first-quarter earnings next week, starting with Dow (INDU) component Alcoa (AA, Fortune 500), which reports April 10.
Still, as long as earnings keep showing even modest growth, analysts think stocks will continue on their upward trajectory, and that recent gains may also be supported by stocks currently being undervalued.
The price-to-earnings ratio for the S&P 500, which investors use to gauge whether stocks are cheap or not, stood at 14.2 at the end of March. That's far below its average of 18 over the past 23 years, when S&P started measuring operating earnings.
"I recognize that there are potholes out there," said Rendino. "But I also recognize that the market is very inexpensive."
Investors have been bailing out of safe-haven assets such as U.S. Treasuries, although many higher yielding bonds continue to see strong demand.
Analysts say that trend should continue to support the market as institutional investors increase exposure to stocks.
At the same time, the Federal Reserve has signaled that it will keep interest rates at record lows through mid-2013. And some investors think the central bank could take additional steps to support the economy if conditions deteriorate.
The combination of mostly upbeat economic news and tacit support from the Fed has helped push stocks higher this year.
Still, there are a growing number of headwinds that could lead to choppiness in the short term.
"Things certainly look better than they did six months ago, but there are still some concerns," said Bruce McCain, chief investment strategist at Key Private Bank.
The debt crisis in Europe has been put on the back burner this year, thanks largely to aggressive moves by the European Central Bank.
But there are growing worries about a funding crisis in Spain, while the outcome of this year's presidential election in France could derail efforts to increase fiscal discipline across the European Union.
Meanwhile, there are signs economic growth in China may be slowing, although the pace remains relatively robust.
In the United States, the economy has been sending mixed signals, with strong readings on the job market and consumer confidence coupled with disappointing reports on housing and manufacturing activity.
Despite the latest spate of less than robust reports, investors say the economic data still suggest the economy is recovering, albeit at a slow pace.
That may be enough to keep the rally going for a while, said Quincy Krosby, market strategist with Prudential Financial in Newark, N.J.
"The stock market doesn't need very strong economic growth to have a rationale to move higher," she said.