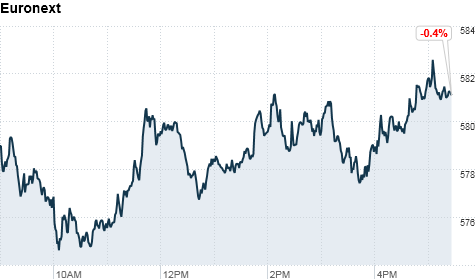 Click on chart to track markets
NEW YORK (CNNMoney) -- World markets closed lower Friday, as investor sentiment seesawed from optimism back to anxiety over the fate of Europe and its fiscal crisis.
The pullback followed Thursday's testimony by Federal Reserve Chairman Ben Bernanke, who offered no hints about further Fed stimulus.
"Bernanke did not signal a smoking gun for an immediate easing, which disappointed investors," said Nick Stamenkovic, fixed income strategist at RIA Capital Markets in Edinburgh, Scotland.
He said that investors were focused on Spain, which has become the latest sour point with its banking crisis and high unemployment. On Thursday, Fitch slapped Spain with a significant downgrade to its sovereign debt rating, slashing it three steps from "A" to "BBB" with a negative outlook, just a hair above junk status.
Fitch pointed to Spain's need for a banking industry bailout of up to €100 billion. The downgrade "clearly refocused markets on financial problems in Spain and the hole in the balance sheets of the banks," said Stamenkovic.
London's FTSE (UKX) and the DAX (DAX) in Frankfurt were down 0.2% at the close, while the CAC 40 (CAC40) in Paris dropped 0.6%.
Asian markets also closed lower. The Nikkei (N225) in Tokyo slid 2%, the Hang Seng (HSI) in Hong Kong dropped 0.9% and the Shanghai Composite (SHCOMP) fell 0.5%.
The Asia markets' drop came despite a move by China's central bank on Thursday to trim a quarter percentage point off its key interest rates.
"The China rate cuts [were] a surprise, but that got completely overshadowed by Bernanke," said Stamenkovic.
The international market woes spread to Wall Street Friday morning, but U.S. stocks pared earlier losses. The Dow Jones (INDU) industrial average, S&P 500 (SPX) and Nasdaq (COMP) were all slightly higher at midday.