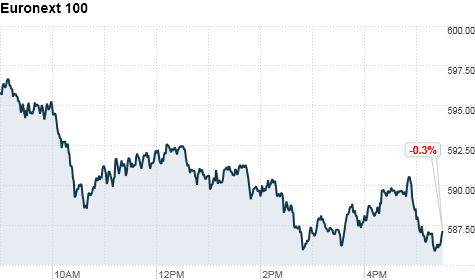 Click here to track Euronext 100 (GMT) and other markets
NEW YORK (CNNMoney) -- An early rally in world markets lost momentum Monday after Greek elections put the main pro-bailout party on top but still needing to form a coalition government.
"It certainly reduces the odds of a disorderly Greek exit," said Bill Stone, chief investment strategist for PNC Financial Services Group in Philadelphia."[But] the Greek issues are far from over, [and] the woes in the economy are far from done."
London's FTSE 100 (UKX) was higher by 0.2% at the close, and Frankfurt's DAX (DAX) was up 0.3%. But the CAC 40 (CAC40) was down 0.8%. The broader Euronext 100 (N100) was lower by 0.3% at the close.
The Athens stock exchange general index closed higher by 3.6%, but shares of the National Bank of Greece (NBG) were down by 2.8% and the Greek ETF (GREK) fell 2.9%.
"I think there was just a sense of relief that the worst outcome has been avoided," said Nick Stamenkovic, fixed income strategist at RIA Capital Markets in Edinburgh, Scotland, referring to the earlier rally of European markets. "However, there are still significant hurdles ahead."
Borrowing costs across the continent rose, led by Spain's 10-year yield hitting a euro-era record high of 7.18%. Any reading above 7% is considered a warning sign that a nation may be headed toward needing a bailout.
"People really start to worry about it when you get north of 7%," said Stone of PNC, referring to the level as a "line of demarcation."
Stamenkovic said the sharp rise in Spain's 10-year yield was fueling fears that the country may need a "full-scale sovereign bailout." Just last week, Spain asked the European Union for €100 billion in aid for its banks.
Shares of Banco Santander (SAN) and BBVA (BBVA) both closed lower by 5.4%.
Spain's IBEX 35 index fell 3%, a sign that investors' focus was already shifting from the diminished threat of Greece pulling out of the eurozone to the still unresolved problems in Spain and Italy.
"Italian bonds are selling off as well," said Stamenkovic. The eurozone's third-largest economy, Italy has massive amounts of debt to contend with. "The fear is that if Spain needs a bailout, Italy is not far behind."
The yield on the 10-year Italian bond continues to hover around 6%.
Investors had been bracing for the possibility that the anti-bailout leftist party would win Sunday's Greek elections. So the win by New Democracy, which backs the tough cost-cutting measures that are a bailout requirement, offered some measure of relief.
But Greece is only one of the problems facing Europe and investors.
The relief is "temporary because it's not the final verdict on Europe," Tsutomu Yamada, a trader at online brokerage kabu.com, told CNN.
In Asia, Japan's Nikkei (N225) was 1.8% higher at the close. The Hang Seng (HSI) in Hong Kong ended with a 1% gain. The Shanghai Composite (SHCOMP) gained 0.4%.
On Wall Street, the S&P 500 (SPX), the Dow Jones industrial average (INDU) and the Nasdaq (COMP) were mixed in midday trading, but rose off the morning's earlier lows.
Sunday's vote didn't resolve many key questions about Greece's economic future. For starters, New Democracy will have to try to form a coalition to lead.
And Europe's broader problems remain -- unsustainable public debt levels, a broad economic slowdown and, in some countries, deep recession and uncertainty about eurozone governance.
Last Friday, European Central Bank President Mario Draghi said the bank would "continue to supply liquidity to solvent banks where needed."
He said strengthening European economies is crucial, and that it's time to implement plans to spur long-term growth.