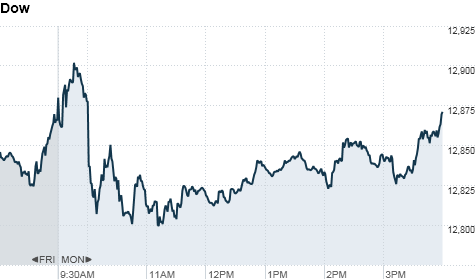 Click for more market data.
NEW YORK (CNNMoney) -- U.S. stocks ended narrowly mixed Monday, recovering from earlier weakness, after a report showed manufacturing activity unexpectedly contracted in June for the first time in nearly three years.
The Dow Jones industrial average (INDU) fell 9 points, or 0.1%, to end at 12,871. Du Pont (DD, Fortune 500), General Electric (GE, Fortune 500) and Bank of America (BAC, Fortune 500) dragged on the index, while JPMorgan (JPM, Fortune 500), AT&T (T, Fortune 500) and American Express (AXP, Fortune 500) led gainers.
The S&P 500 (SPX) rose 3 points, or 0.2%, to 1365. The Nasdaq (COMP) added 16 points, or 0.5%, to 2,951.
Stocks came under pressure after the Institute for Supply Management said its June Purchasing Manufacturers Index fell to 49.7, down from 53.5 in May. It was the first time the index fell below 50, which signals expansion in the sector, since July 2009. Economists surveyed by Briefing.com were expecting the index to decline to 51.5.
The report raised concerns the U.S. economy is being dragged down by weakness in Europe. But traders said the selling was tempered by hopes the latest economic data would prompt more stimulus from the Federal Reserve.
"The global slowdown caught up with U.S. manufacturing in June," said Nigel Gault, chief U.S. economist at IHS Global Insight. "The U.S. still looks in better shape than the rest of the world, but the headline ISM manufacturing index joined many similar indexes elsewhere in the world below the breakeven 50-mark."
Earlier Monday, an industry report showed manufacturing activity in the euro area remained in decline during June, while unemployment there rose to a record high. Chinese manufacturing activity declined slightly, but remained above the level indicating expansion.
Traders said volumes were down Monday as many investment professionals are taking the week off. U.S. markets will close early Tuesday and remain dark Wednesday for the 4th of July holiday.
"It's going to be a slow week overall, and that will definitely impact trading volumes," said Bernard Kavanagh, vice president of portfolio management for St. Louis-based broker Stifel Nicolaus.
Kavanagh said he was surprised stocks didn't fall further given last week's strong gains. He said some traders may be betting the Fed will launch a third round of asset purchases to stimulate economic growth. The ISM report, he said, "is friendly for people expecting the Fed to step in."
Last Friday marked the end of the first half of the trading year, with all three indexes posting strong gains for the six months. The Dow rose 5.3%. The Nasdaq surged 12.5%, and the S&P added 8%.
Stocks rallied Friday after eurozone political leaders agreed on steps to stabilize credit markets and strengthen the region's banking system. But many of the details have yet to be finalized, and implementing the plans could prove politically difficult.
"There's no follow-through from the euphoria over getting something constructive in the eurozone after 19 tries," said Art Hogan, a managing director at Lazard Capital Markets.
World markets: European stocks closed higher Monday. Britain's FTSE 100 (UKX) and the DAX (DAX) in Germany both added 1.1%, while France's CAC 40 (CAC40) gained 1.3%.
Eurostat, the European Union statistics office, released a report showing a new record unemployment rate of 11.1% for May, as 88,000 people were added to the jobless pool.
Separately, the Markit Economics survey of eurozone purchasing managers was unchanged in June at 45.1, marking nearly a year of decline in manufacturing activity.
Asian markets ended mixed. The Shanghai Composite (SHCOMP) ended just above breakeven, while Japan's Nikkei (N225) closed barely lower. Hong Kong markets were closed for a holiday.
In China, the National Bureau of Statistics said Sunday that the Manufacturing Purchasing Managers Index for June fell to 50.2 from 50.4 in May. The reading was just above the 50 mark that divides expansion from contraction in the sector.
The negative outlook of the report was compounded by the Monday release of HSBC's monthly Purchasing Managers' Index, which fell in June and showed the second quarter ended with the lowest value since the start of 2009.
Investors are keeping a close eye on Chinese manufacturing, given concerns about the country's slowing growth.
Economy: U.S. construction spending in May increased 0.7%, compared with the same month last year, which was more than the expected 0.2%.
Later this week, the Bureau of Labor Statistics will release the jobs report for June.
Companies: U.S. authorities said global drug company GlaxoSmithKline (GSK) agreed to pay $3 billion to settle a number of criminal and civil charges, including "unlawful promotion" of certain prescription drugs. Shares rose 1.7%.
Barclays (BCS) on Monday announced the resignation of its chairman, Marcus Agius, due to the scandal surrounding the bank's manipulation of interbank lending rates in 2008 and 2009.
Shares of electronics maker Micron Technology (MU, Fortune 500) soared on news that it announced a $2.5 billion deal to buy Japanese chip maker Elpida Memory. The move secures the company a spot as a major supplier to smartphone and tablet makers, including Apple (AAPL, Fortune 500).
Continuing Monday's tech company acquisitions, Dell (DELL, Fortune 500) agreed to buy IT management software provider Quest (QSFT) for $2.4 billion.
European aircraft manufacturer Airbus announced plans Monday to build a new facility in Alabama to produce commercial airliners.
Currencies and commodities: The dollar rose against the euro and British pound but fell versus the Japanese yen.
Oil for August delivery dropped $1.21 to settle at $83.75a barrel.
Gold futures for August delivery fell $6.50 to $1,597.70 an ounce.
Bonds: The price on the benchmark 10-year U.S. Treasury rose, pushing the yield down to 1.62% from 1.66% on Friday.