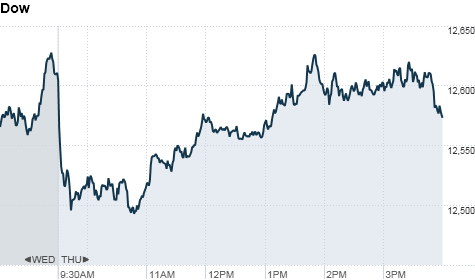 Click for more market data.
NEW YORK (CNNMoney) -- U.S. stocks fell Thursday as fears about a global economic slowdown and disappointing corporate results weighed on the market.
Investors are concerned that global central banks are unable or unwilling to stimulate economic activity even though growth remains sluggish.
Federal Reserve officials are wary of launching more asset purchases, according to minutes from the central bank's latest meeting.
Concerns about corporate profits also took a toll on sentiment following weaker-than-expected second-quarter reports. Shares of Supervalu sank 48% after the grocery chain reported weak results and suspended its dividend payment as the board explores "strategic alternatives."
"The market is wary of earnings," said Clark Yingst, chief market analyst at broker-dealer Joseph Gunnar. "I think we will either get earnings that fall short of expectations or disappointing guidance."
A drop in claims for unemployment benefits, which came during the 4th of July holiday week, failed to brighten the gloomy mood.
Investors were rattled by a weak report on employment in Australia and speculation that Chinese gross domestic product, due after the market closes, will disappoint.
"The market is being pressured by lack of confidence in global growth," said Nick Kalivas, market analyst at New York-based investment management firm Hadrian Partners.
The Dow Jones industrial average (INDU) fell 31 points, or 0.2%, to end at 12,573. The S&P 500 (SPX) slid 7 points, or 0.5%, to 1,335. The Nasdaq (COMP) declined 22 points, or 0.7%, to 2,866. All three indexes were down about 1% earlier in the day.
In the currency market, the euro fell below $1.22 to a fresh two-year low against the dollar.
Investors remain concerned that political headwinds in Europe will stymie the latest rescue plan for the euro currency union, which eurozone leaders announced at a summit meeting late last month.
Specifically, the German constitutional court could take months to issue a ruling on the legality of a crucial bailout fund called the European Stability Mechanism.
The initial euphoria from the recent European summit has faded, according to Gerry Davies, a ForexLive currency analyst in London.
"All that excitement has effectively evaporated," Davies said.
U.S. stocks closed lower Wednesday, with the Dow falling for the fifth day in a row.
World markets: European stocks ended lower. Britain's FTSE 100 (UKX) shed 1%, the DAX (DAX) in Germany lost 0.5% and France's CAC 40 (CAC40) slid 0.7%.
The selling in Europe came despite a report that industrial production in June was stronger-than-expected across several euro-area nations.
Asian markets ended mixed. The Shanghai Composite (SHCOMP) added 0.5%, while the Hang Seng (HSI) in Hong Kong fell 2% and Japan's Nikkei (N225) dropped 1.5%.
Economy: The Labor Department reported 350,000 people filed for first-time unemployment benefits during the week ended July 7 -- beating expectations and reaching a four-year low. The latest numbers showed a decrease of 26,000 from the previous week's 376,000.
Import prices excluding fuels dropped by 0.3% in June, according to the Bureau of Labor Statistics. Prices have continued to fall for most of the year so far.
Companies: Shares of Supervalu (SVU, Fortune 500) plunged after the grocery store chain said Wednesday that quarterly sales and earnings fell. Supervalu CEO Craig Herkert said the company is working with its financial advisors on "strategic alternatives" as it struggles under a mountain of debt.
Groupon (GRPN) shares hit a fresh 52-week low as investors continue to fret about the health of the online deals site.
Shares of Merck (MRK, Fortune 500) jumped after the company's osteoporosis drug Odanacatib showed positive results in the lab. The results caused outside observers to suggest that the company stop the study early.
Shares of India-based technology company Infosys (INFY) fell sharply after it lowered its full-year profit outlook.
United Continental (UAL, Fortune 500) announced plans to buy 150 planes from Boeing (BA, Fortune 500) over the next several years. At list prices, the planes would be valued at $14.9 billion.
Currencies and commodities: The dollar gained strength against the euro and British pound, but fell versus the Japanese yen.
Oil for August delivery rose 27 cents to settle at $86.04 a barrel.
Gold futures for August delivery fell $10.40 to end at $1,565.30 an ounce.
Bonds: The price on the benchmark 10-year U.S. Treasury rose, pushing the yield down to 1.49% from 1.50% late Tuesday.