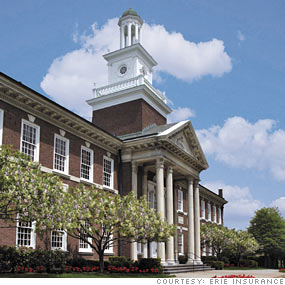 2010 Fortune 500 rank:
484
2009 profit growth: 56.7%
2009 revenue growth: 41.8%
CEO since July 2008: Terrence Cavanaugh
Since taking the helm two years ago, Erie chief Terrence Cavanaugh -- the first non-family member to run Erie in the company's 85-year history -- has had to battle internal complacency (he told shareholders the company's biggest threat "is thinking that time is on our side") and mended fences with a major shareholder, who had objected to the company's direction.
No matter. Propelled by investment gains, revenues rose 42% last year, to $4.3 billion, and profits were up 57%, to $108 million.

NEXT: 12. Bank of America Corp.