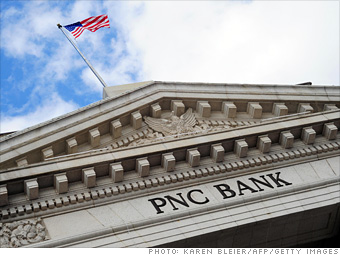 2010 Fortune 500 rank:
123
2009 profit growth: 177.4%
2009 revenue growth: 98.7%
CEO since 2000: James Rohr
Although it's often referred to as a regional player, PNC, with 2,500 branches in 15 states, is the country's fifth-largest bank.
That's thanks largely to the 2008 acquisition of National City Bank of Cleveland which helped PNC's revenues increase 99% last year, to $19.2 billion, and earnings leap 177%, to $2.4 billion.
PNC chief James Rohr anticipates "tremendous" cross-selling potential once NatCity has been fully integrated.

NEXT: 7. JPMorgan Chase & Co.