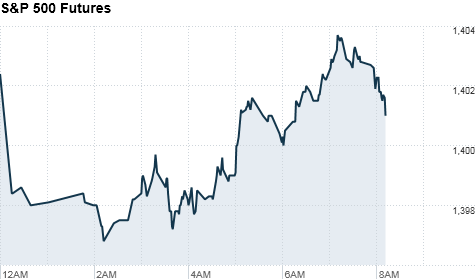 Click the chart for more premarket data
NEW YORK (CNNMoney) -- U.S. stocks were expected to open little changed Monday as renewed concern about global growth send investors back toward sidelines.
U.S. stock futures were mixed.
Trading volume could be light with little major corporate or economic news expected, and many investors in summer vacation mode.
Investors will once again keep an eye on Europe, as concern that Spain may need an international bailout continue to mount. The country's borrowing costs are uncomfortably high, with the 10-year bond yield is hovering just below 7%.
Weak economic numbers out of Japan also reignited worries about a global slowdown. Japan's gross domestic product grew 0.3% in the second quarter, according to Japan's Cabinet Office. The slower-than-expected pace in growth for the world's third-largest economy further fueled concerns over a slowdown in Asia and across the globe.
On the domestic front, the reporting of second-quarter corporate results is beginning to draw to a close, though daily deals site Groupon (GRPN) issues its results after the close Monday. Results due later in the week include those ofHome Depot (HD, Fortune 500), Walmart (WMT, Fortune 500) and Cisco (CSCO, Fortune 500).
U.S. stocks finished flat Friday following disappointing economic data from China and fears of a global slowdown.
World markets: European stocks mixed in afternoon trading. Britain's FTSE 100 edged lower by 0.2%, while the DAX in Germany ticked up 0.1% and France's CAC 40 added 0.4%.
Asian markets ended lower after Japan reported weak growth. The Shanghai Composite dropped 1.5%, the Hang Seng in Hong Kong fell 0.3%and Japan's Nikkei shed 0.1%.
Companies: Groupon is expected to report quarterly earnings of three cents a share on $573 million in revenue, according to a survey of analysts by Thomson Reuters.
Motorola Mobility, the Google (GOOG, Fortune 500)-owned cellphone maker, announced it would cut 4,000 jobs, or a quarter of its workforce. The company also said it would consolodate a third of its 90 facilities. These changes come as Motorola lost money in 14 of the last 16 quarters.
Barnes & Noble (BKS, Fortune 500) announced price cuts on all three of its Nook e-reader and tablet devices Monday, as back-to-school shopping gets under way and amid speculation that Amazon (AMZN, Fortune 500) will introduce a new version of its Kindle Fire. The company said price cuts will fall between $20 to $50.
Ingersoll-Rand (IR), the industrial equipment maker, announced Monday that it will add Nelson Peltz to its board. Additionally, the investor and CEO of Trian Fund Management will join the company's Corporate Governance and Nominating Committee and the Finance Committee. The move comes as a way to avoid potential infighting, as Trian is currently one of Ingersoll's largest shareholders.
Currencies and commodities: The dollar fell against the euro and the British pount, but gained versus the Japanese yen.
Oil for September delivery 69 cents to $93.56 a barrel.
Gold futures for December delivery added $1.42 to $1,624.20 an ounce.
Bonds: The price on the benchmark 10-year U.S. Treasury held steady with the yield at 1.65%, the same level as late Friday.