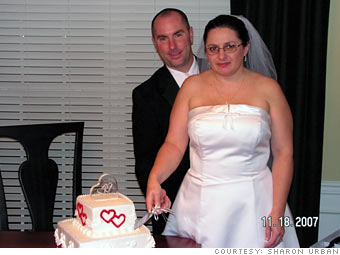 Sharon with her husband, Duane
Bankruptcy clerk, 40, Bear, Del.
My husband lost his job last October, one month before we were to marry. Since he was employed with a home builder and most of his skills are in the home building industry, it has been very difficult for him to find work. He decided to try school full time to learn a new trade. But once the unemployment runs out in about two months and he hopefully finds work, he'll need to cut school to part time. It's been a struggle. I used to park in the city where I work and now I take the bus because we can't afford the parking. We don't eat out anymore either. We are struggling to pay two car payments, a mortgage payment, rent and uitlities and credit card bills. I am also a full-time student attending school online so I'm hoping once I graduate in August I can find a better job making a little more money. But with the way the economy is, it's probably less likely to happen.
NEXT: Joe Sloboda: Tougher to get mortgages