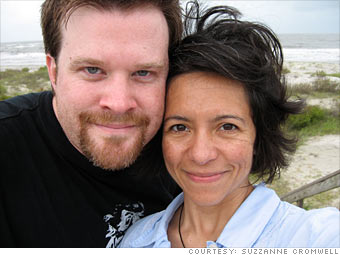 Suzzanne with her husband, Brett
Program Coordinator, 39, Lowell, Mass.
I work in Belmont, MA, which is in the Cambridge area. I am in LOVE with what I do -- I work for Belmont's Council on Aging. Friendships are formed with this community. Our staff is devoted to what we do, and we grow incredibly attached to the people we serve, as well as their families.Sadly, my husband and I were priced out of this community when we decided to buy our first home almost two years ago. We decided to move to Lowell, about 10 minutes shy of the New Hampshire border. We have grown to adore our new home and community and have forged great bonds with our neighbors. But I will most likely need to leave my wonderful job as program coordinator due to the rising cost of gas. It costs me about $250 a month to commute to work, and while I know my story is not unique, I am quite heartbroken about it.
NEXT: Theresa Grof: College blues