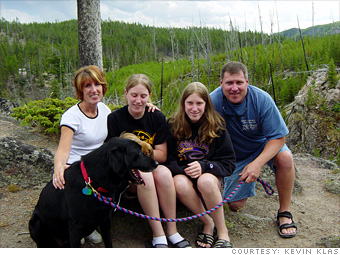 Kevin with his wife, Jenny, and daughters, Alexis and Katie
Home remodeler, 42, Deforest, Wis.
People have to place some blame on themselves and not just blame business and the government. People spend too much money, borrow too much and don't save for slow times or when an emergency comes up. Yes, it is harder to fill the tank up in the vehicles and I notice the checks we write out for food and other expenses have been larger lately. About seven years ago I started my own business (construction/home improvement). I do not rely on a boss or the government for help. I make sure I put money away each time I go to the bank. We are raising twin daughters who are 15-1/2 years old ( they can be expensive). Last year we purchased a new home. All of the money we made off the sale of prior home went into this home. We also took out a 30-year fixed-rate mortgage on this home. Yes our payments would have been less if we took out an interest-only loan or an adjustable loan. I feel that if we could not afford the payments on a 30-year loan, we would not have bought this house.There are people who are doing well. The only thing I feel I have no control over is taxes. If taxes go up like they do, here in Wisconsin, we know enough to cut back.
NEXT: Jennifer Meharg: Fighting foreclosure