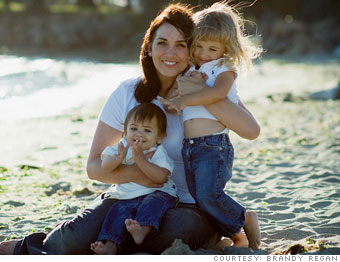 Brandy with her son, Andrew, and daughter, Emma
Legal secretary, 34, Vallejo, Calif.
As a single mother of two children I have truly seen some tough times. Three years ago my first child passed away at the age of 2 to cancer. Then I had to file bankruptcy due to the medical bills reaching $5 million. Soon I was debt free, was able to save enough money and decided to buy a home for my family. Sadly I was just told that I will not be able to refinance my loan since the value of my property has gone well below my loan amount. The true irony is that five months ago when I decided it was a good time to refinance, I was told to wait just a bit longer for the rates to come down. When I did wait, my house lost value and I lost my one chance of a loan.What I don't understand is that I have followed all the rules. I contacted my bank first and told them I have exhausted my savings and will not be able to refinance in October once my loan changes. I also clearly stated that I am running out of money and will not be able to make my mortgage payments in the near future. They had no option but to tell me to list the home as a short sale which I did the next day. Sometimes just allowing foreclosure seems to be the easiest step. I'm not going to win the battle when it comes to losing my house despite how much I pay out or how much I work with the bank.I find this all to be very difficult.
NEXT: Aliza Garofalo: Putting on a brave face