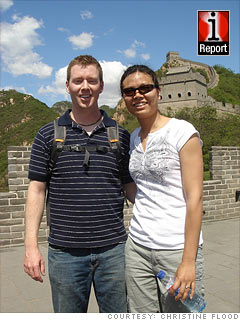 Christine with her husband, Matt
Software engineer consultant, 34, Denver, Colo.
Summer 2007 was the dark period for mortgage loan borrowers and we got caught right in the middle of it. At that time, I was working as a realtor without a steady income. We decided to downsize from a more expensive house located in the center city to a more affordable area in Denver. Our purchasing loan got pulled one day after we closed the transaction, leaving both the sellers and us on the street. We managed to close the loan with another lender a week later at the expense of not putting my name on the loan and the title because of my "lack of steady employment" situation. The whole incident really made us worry about our financial outlook. What if we need to borrow again? What if Matt is out of a job? It seemed inevitable that I would have to go back to my IT profession to sustain the downsizing of the economy. Through Matt's network at his former company, I landed a pretty darn good job as a technology consultant with benefits. The first thing we did was refinance our brand new home loan from a 30-year fixed loan to a 15-year fixed loan at a much lower rate. Our calculation shows that with this new shorter loan, we save about $200,000 on interest payments! Although our household income has improved drastically, we don't dare to start a spending spree. We are maxing out our 401(k) contribution and IRA. We buy company discounted stocks. And we put cash away every month for an emergency. You never know what's going to happen - better to be prepared than be sorry.
NEXT: Sherry Kostenko: Starting over at 40