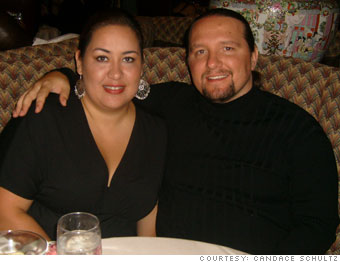 Candace with her husband, James
Insurance agent, 34, Tustin, Calif.
My husband and I had to close our copy/printing business in January due to poor sales. We have three sons and are barely getting by on my salary. My husband is trying to find a job and staying home watching our 2-year-old son in the meantime. We can't really afford childcare right now. We have to watch EVERYTHING we do. I can't afford to buy a lot of groceries and boys eat a lot!Due to the debt incurred by the business going downhill, we recently had to file for bankruptcy and give back one of our cars. I downgraded to a small, gas-friendly vehicle but while it used to cost $20 to fill up, it now costs more like $60. I work 20 miles from home and I'm trying to think of alternative, cheaper ways to get to work. We struggle every week. Our kids are 17, 13 and 2 and all they hear is "no." We can't afford to go out to eat, see movies or anything anymore. We can't afford to buy them things they want and can hardly afford to buy them what they need. My husband and I go without a lot to make sure the kids are taken care of. It is truly a struggle and I'm terrified of what may happen if it continues this way. We could lose everything we've worked so hard for.
NEXT: Christine Flood: Caught in credit meltdown