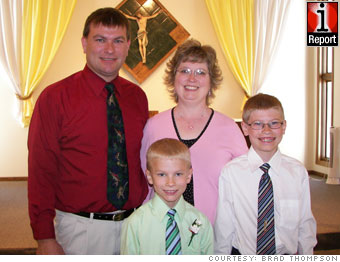 Brad with his wife, Ann, and sons, Adam and Michael
Music teacher, 38, Karlstad, Minn.
My wife and I both teach at the local school district, so we drive less than a mile to work. We don't make a lot of money, but we also don't spend beyond our means. This means that we drive old vehicles, live in a modest home and don't buy a lot of junk to "make us happy." Our house needed a major remodel on the outside, so we started saving two years ago so we would not have to take out a big loan. I did the work myself and it took all summer, but it allowed us to not go into debt. We are putting money away for ourselves with a 403(b) plan and for our boys in a 529 plan. Moderation is the key - as is choosing to live somewhere modest (yes, it gets cold in Minnesota -- SO WHAT?) so you don't spend too much on living. We are doing well and thankful for what we have.
NEXT: Lynne Hernandez: $5 for a gallon of milk