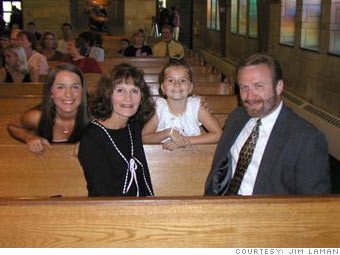 James with his wife, Mary, and daughters, Alexandra and Anastasia
Materials analyst, 52, Holland, Mich.
I lost my white-collar job with a supplier to the residential building industry in October 2006. Fortunately, I had a 401(k) from a prior employer that my wife and I could both tap into. Right now about 75% of that is gone, and after that, there is nothing, unless I refinance my home, which is not paid for and for which I have a sizable mortgage. So, right now, I have a daughter waiting to start college, one who needs braces, and the oldest is still at home looking for a job after finishing her BA at a local college. My wife also was "downsized" by a large local company and has been unable to find permanent employment. On the surface, we look healthy and happy, but in a few months, I may lose it all if something does not happen. It's a mess, but I try to remain positive. I just know that I will have to work until I am no longer able to.
NEXT: Keri Sprenger: In the midst of bankruptcy