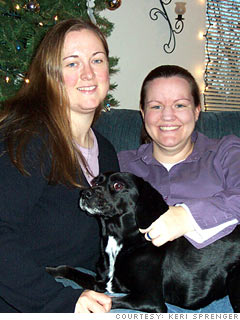 Keri (right) with her partner, Tracy
Technical writer, 29, Camas, Wash.
My partner and I had been planning to relocate from North Carolina to Washington in 2008. When a housing situation forced us to rethink our plans, we decided to move out in August 2007 instead. Our jobs in North Carolina didn't pay enough for us to put money away in savings. We thought our luck would change once we were in an area with a lower cost of living. We moved out on my 401(k), and little more than a dream and a whole lot of prayers. It took us both six weeks to find work; it took another two months to admit that we couldn't pay our bills anymore due to the high credit-card balances that had accrued during our unemployment. Now, I'm in the middle of a bankruptcy and while relief is on the horizon, we are barely squeaking by. The rising cost of fuel has us scrambling to keep our gas tanks full. Every day, the idea of owning a home is further and further out of our reach.
NEXT: Denise Janus: Ready for rainy day