Want to retire where residents live a long life, there are lots of doctors and hospitals nearby, and you can pursue an active lifestyle? Check out these 20 towns.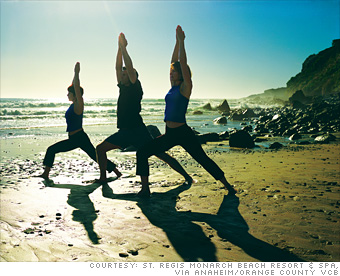 Population: 333,200
% over 50: 26%
Doctors (in county): 8,370
Hospitals (in 30 miles): 420
Life expectancy at birth: 79.55
In southern California, there's an anti-aging secret that doesn't involve plastic surgery -- just a little magic: Embrace your youthfulness and head to Disneyland -- the only theme park designed by Walt Disney himself. Walk the park's 85 acres or get your heart rate up riding Splash Mountain, which drops more than 50 feet at 45 miles per hour.
If that sounds too Mickey Mouse, go to the coast for a tougher workout -- biking the boardwalk or playing beach volleyball. Or zen out with some yoga on the beach. In addition to loyal sunshine and sparkling seas, Anaheim also boasts several award-winning golf courses. Black Gold Golf Club offers the highest elevated tee in the O.C. and views of the Black Mountains and the Pacific Ocean. --H.Y.

See complete data and interactive map for Anaheim
NEXT: North Hempstead, NY