Want to retire where residents live a long life, there are lots of doctors and hospitals nearby, and you can pursue an active lifestyle? Check out these 20 towns.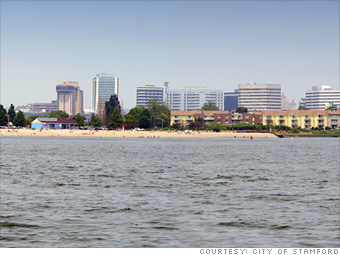 Population: 118,500
% over 50: 33%
Doctors (in county): 3,483
Hospitals (in 30 miles): 614
Life expectancy at birth: 78.94
In this charming coastal community, fitness activities are as close as the Long Island Sound. Sailors, kayakers and swimmers head to the beach for a workout. Nature walkers go inland to the Stamford Museum & Nature Center, where they might spot a red fox or white-tail deer on trails winding through more than 80 acres. On Friday nights, stargazers can look deep into space through the center's 22-inch research telescope.
Arts and culture lovers will appreciate Stamford's many live music venues, including the Stamford Center for the Arts, as well as its proximity to New York City. And plenty of dining and shopping beckons in Stamford's downtown, home to a multi-level mall with department stores, specialty stores and restaurants. --H.Y.

See complete data and interactive map for Stamford

NEXT: Seattle, WA