Want to retire where residents live a long life, there are lots of doctors and hospitals nearby, and you can pursue an active lifestyle? Check out these 20 towns.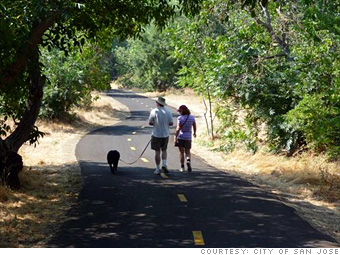 Population: 939,900
% over 50: 27%
Doctors (in county): 5,743
Hospitals (in 30 miles): 169
Life expectancy at birth: 80.33
To keep your heart healthy in San Jose, raise a glass! The city is less than an hour from wineries in the Santa Cruz Mountains like the David Bruce Winery, famed for its Pinot Noirs. While you're there, enjoy a picnic overlooking the Monterey Bay and Pacific Ocean.
Or skip the vino and get your heart rate up by cycling, an activity the city is known for -- it's the birthplace of the first mechanically pedaled bicycle in North America as well as the first bicycling club, the Garden City Wheelmen.
It's also a great place to take a stroll. With safe streets, mild weather and good air quality, San Jose often ranks in the top ten of America's most walkable cities. The town also features several highly rated hospitals. --H.Y.

See complete data and interactive map for San Jose

NEXT: Natick, MA