Stocks surge on recovery hopes
Better-than-expected pending home sales report sends Nasdaq to a 6-month high, Dow and S&P 500 to almost 4-month highs.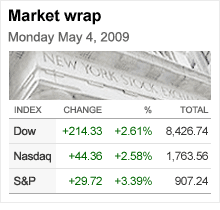 NEW YORK (CNNMoney.com) -- Wall Street rose Monday, pushing the major gauges to multi-month highs, as a better-than-expected housing market report intensified hopes that the economy is closer to stabilizing.
The Dow Jones industrial average (INDU) gained 214 points, or 2.6%, ending at the highest point since Jan. 13. The S&P 500 (SPX) index added nearly 30 points or 3.4%, ending above 900 for the first time since Jan. 8 and turning higher for the year.
The Nasdaq composite (COMP) rose 44 points, or 2.6% and ended at the highest point since Nov. 4.
Stocks have been surging -- since bottoming on March 9 -- on bets that the worst for the economy is over. Those bets were furthered Monday by the day's economic news.
The March pending home sales index from the National Association of Realtors jumped 3.2% from February, surprising economists who were looking for the index to hold steady.
"If you subscribe to the theory that the global economic crisis started with the U.S. housing market and will end there, you're going to be encouraged by reports like this that suggest housing is bottoming," said Kevin D. Mahn, managing director at Hennion & Walsh.
Another report, from the government, showed construction spending rose 0.3% versus forecasts for a decline of 1.6%. Spending fell 1% in February.
Mahn said investors were also responding well to weekend comments from Berkshire Hathaway (BRK.A)'s Warren Buffett, who said he sees the recession ending soon and predicts that no big bank will fail. He also talked up Wells Fargo (WFC, Fortune 500), one of Berkshire's largest holdings.
Speaking at the company's annual meeting, Buffett also said Berkshire will post a first-quarter operating profit.
Stocks are coming off a strong April, in which the S&P 500 spiked 9.4%, the Dow gained 7.3% and the Nasdaq jumped 12.3%. The S&P 500 and Dow have gained for seven of the past eight weeks; the Nasdaq has jumped eight weeks in a row.
While the move has been positive and has coincided with some improved results, there are still enough roadblocks for the market that analysts are wary to say the bear market is over.
"The rally has been encouraging and we certainly have a lot of the ingredients for a bull market, but we need another big push for that to happen," said Jack Ablin, chief investment officer at Harris Private Bank.
Tuesday brings readings on the services sector of the economy and a profit report from Walt Disney. Also Tuesday: Federal Reserve Chairman Ben Bernanke gives his economic outlook before the Joint Economic Committee.
Banks: Financial shares are likely to be choppy ahead of the release of the government's "stress tests" on Thursday. The government will release details on the 19 individual companies tested as well as the broad group of corporations.
The results are expected to include estimated loan losses in the event that the economy deteriorates further, along with an estimate of how much more capital banks would need to raise in such an environment.
Citigroup (C, Fortune 500) is reportedly among the banks that will need to generate more money to stay afloat. The bank may have to raise another $10 billion, according to the Wall Street Journal.
Bank of America (BAC, Fortune 500) shot down reports in the Financial Times that it has been told by the government that it needs to raise $10 billion in fresh capital.
Wells Fargo has reportedly been asked to raise additional money as the result of preliminary stress tests.
However, shares of the three companies rallied, along with the rest of the bank sector, as investors took the news in stride. The KBW Bank (BKX) sector index gained 14.7%.
Corporate news: Sprint Nextel (S, Fortune 500) reported a quarterly profit, excluding items, surprising analysts who were looking for a quarterly loss. Shares gained 8%.
Gains were broad based with 27 of 30 Dow stocks rising, led by IBM (IBM, Fortune 500), Boeing (BA, Fortune 500), United Technologies (UTX, Fortune 500) and Johnson & Johnson (JNJ, Fortune 500).
Market breadth was positive. On the New York Stock Exchange, winners topped losers four to one on volume of 1.10 billion shares. On the Nasdaq, advancers topped decliners three to one on volume of 2.07 billion shares.
Bonds: Treasury prices were little changed, with the yield on the benchmark 10-year note at 3.15%, little changed from Friday. Treasury prices and yields move in opposite directions.
Other markets: In global trading, Asian markets ended higher and European markets mostly ended higher.
In currency trading, the dollar fell versus the euro and gained against the yen.
U.S. light crude oil for June delivery rose $1.27 to settle at $54.77 a barrel on the New York Mercantile Exchange.
COMEX gold for June delivery rose $14 to settle at $902.20 an ounce.

Features

These Fortune 100 employers have at least 350 openings each. What are they looking for in a new hire? More

It would be the world's second-biggest economy. See how big companies' sales stack up against GDP over the past decade. More