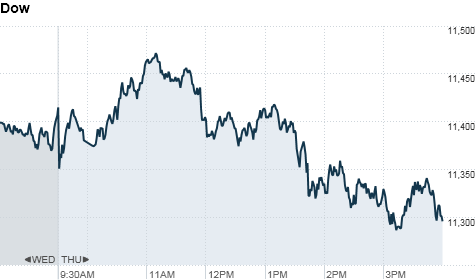 Click the chart for more market data.
NEW YORK (CNNMoney) -- U.S. stocks fell Thursday after Ben Bernanke made a speech that failed to knock investors' socks off.
The Federal Reserve chairman reiterated previous statements that the central bank stands ready to use certain "tools" to help stimulate the economy. But he offered no indication as to which of those tools the Fed is, or is not, prepared to use.
The Dow Jones industrial average (INDU) fell 119 points, or 1%, to end at 11,296. The S&P 500 (SPX) lost 13 points, or 1%, to 1,186. The Nasdaq Composite (COMP) slid 20 points, or 0.8%, to 2,529.
Shares of Bank of America (BAC, Fortune 500) and JPMorgan (JPM, Fortune 500) were among the weakest performers on the Dow. But strength in the technology and consumer staples sectors helped support the index. Cisco, (CSCO, Fortune 500) Microsoft, (MSFT, Fortune 500) Kraft (KFT, Fortune 500) and Procter & Gamble (PG, Fortune 500) were all higher.
Speaking in Minnesota, Bernanke repeated his argument that lawmakers should not put the economic recovery at risk in the debate over reducing the nation's budget deficit.
"While prompt and decisive action to put the federal government's finances on a sustainable trajectory is urgently needed, fiscal policymakers should not, as a consequence, disregard the fragility of the economic recovery," the nation's top monetary policymaker said.
The central bank's Federal Open Market Committee will meet later this month to discuss the economic outlook and policy measures. Some investors had anticipated that Bernanke would drop some sort of hint on which direction the Fed is leaning.
"There was some expectation he would be a little more clear on the alternatives the Fed would be discussion on September 21," said Kate Warne, chief investment strategist with Edward Jones. "Some were disappointed that he didn't signal that at all."
The Fed has already committed to keeping interest rates low for the next two years. But recent economic data, including a particularly bad August jobs report, have raised expectations for more stimulus measures.
With Bernanke out of the way, investors are now focusing on what President Obama will say Thursday night when he addresses Congress.
Obama is expected to propose roughly $300 billion in stimulus measures to get job creation back on track. But there are doubts about how effective the proposals will be, or if lawmakers will even accept them.
"The question is: What will the president be able to push through Congress, how quickly will it take hold, and will it make a difference?" said Quincy Krosby, market strategist with Prudential Financial.
Investors have been on edge amid a host of political and economic uncertainties around the world.
In the U.S., the economic recovery has lost momentum, and it's unclear what the government can do to get it back on track.
At the same time, Europe continues to do battle with a spiraling debt crisis that has pressured the European Union to its breaking point.
"There's still a lot of uncertainty out there, and people are taking a step-by-step approach," said Ryan Larson, a senior equity trader at RBC Global Asset Management.
Stocks are coming off of sharp gains Wednesday, following a three-day rout.
Economy: Filings for first-time unemployment benefits rose 2,000 to 414,000 in the week ending Sept. 2, the Labor Department reported Thursday. That was up from the 409,000 claims filed the week before, and worse than the 400,000 claims economists surveyed by Briefing.com had expected.
The U.S. trade gap narrowed to $44.8 billion in July, led by a surge in exports. Trade balance figures were expected to show the deficit widened to $51.5 billion in July, from $53.1 billion in June.
On the European front, the Bank of England and the European Central Bank opted to keep their key interest rates unchanged.
In a statement issued after the rate announcement, ECB president Jean-Claude Trichet said the economic outlook in Europe is "subject to particularly high uncertainty and intensified downside risks."
Trichet said the ECB now expects economic growth in the eurozone to range between 1.4% and 1.8% this year. In 2012, the bank anticipates growth somewhere between 0.4% and 2.2%.
Companies: The Men's Warehouse (MW) reported a 34% jump in second-quarter earnings compared with last year. Despite the strong performance, shares of the clothier fell 10%.
AOL (AOL) stayed in the spotlight as its TechCrunch fiasco continued. Inside sources say TechCrunch's founder Michael Arrington will be fired, in the aftermath of his launching a new venture capital fund -- CrunchFund. Shares of AOL ended the day down slightly less than 1%.
Shares of Google (GOOG, Fortune 500) edged higher after the search giant announced it bought Zagat, the consumer reviews and survey company, for an undisclosed sum.
The news sent shares of online reservation site OpenTable (OPEN) down a whopping 8%.
World markets: European stocks closed higher. Britain's FTSE (UKX) 100 gained 0.4% and France's CAC 40 (CAC40) rose 0.4%. The DAX (DAX) in Germany ended the day little changed.
Asian markets finished mixed. The Shanghai Composite (SHCOMP) slipped 0.7% and the Hang Seng in Hong Kong (HSI) shed 0.7%, while Japan's Nikkei (N225) rose 0.3%.
Currencies and commodities: The dollar gained strength against the euro and the Japanese yen, but fell versus the British pound.
Oil for October delivery fell 29 cents to settle at $89.05 a barrel.
Gold futures for December delivery rose $39.90 to close at $1,857.50 an ounce.
Bonds: The price on the benchmark 10-year U.S. Treasury rose, pushing the yield down to 1.99% from 2.02% late Wednesday.