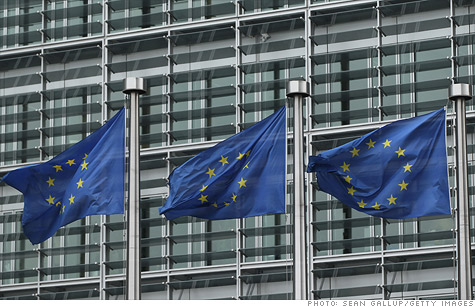 Moody's warned of a potential downgrade for eurozone banks and expressed concerns about sovereign credit and the risk of default.
NEW YORK (CNNMoney) -- Investors are feeling Euro fatigue, with European stocks managing tepid gains even as Moody's warns of possible eurozone bank downgrades and Italian borrowing costs remain high.
In its second auction this week, Italy sold €7.5 billion of 3- and 10-year bonds at yields of 7.86% and 7.56%, respectively.
London's FTSE (UKX) and the CAC 40 (CAC40) in Paris each rose 0.46% at the close, while the DAX (DAX) in Frankfurt gained nearly 1%.
But High Frequency Economics chief economist Carl Weinberg said those gains should be taken with a big dose of caution.
"We have seen this pattern before," said Weinberg, in a client note. "Markets develop great expectations [ahead of meetings and summits]. When these confabs deliver nothing other than promises to agree to a plan at the next meeting, markets become morose and inconsolable..and they crash."
A two-day meeting of European Union finance ministers got underway Tuesday and investors are hoping to hear more good news about how Europe's problems will be fixed.
On Monday, talk of renewed efforts by European leaders to address the debt crisis injected optimism in stocks throughout the globe.
Weinberg said that rally was driven by a combination of "irrational optimism" and technical consolidation from last week's sell-off.
The new pact would give the European Union greater authority over the budget policies of individual eurozone nations with strict penalties flouting fiscal rules.
EU president Herman Van Rompuy plans to present a roadmap for the plan to government leaders at the council's next meeting on Dec. 9.
Meanwhile, Moody's said Tuesday that it was scrutinizing 87 banks in 15 countries, noting that this debt faces the potential removal of government support.
That follows the rating agency's scathing report of the eurozone on Monday, when it said that the banking crisis was undermining the credit integrity of sovereign debt in the eurozone and said "the probability of multiple defaults ... is no longer negligible."
"While the euro area as a whole possesses tremendous economic and financial strength, the institutional weaknesses continue to hinder the resolution of the crisis and weigh on ratings," Moody's said Monday.
European bank stocks have taken a beating this year, with shares of BNP Paribas, Societe Generale, Credit Agricole and Deutsche Bank all down between 31% and 58% since January.
Meanwhile, Italian 10-year bonds continue to trade, post-auction, closing with a yield of 7.23%. Italian bonds have traded above the 7% benchmark for much of the last two weeks.
The 7% level is key since that was the threshold that flashed warning signals for Ireland, Portugal and Greece, which all eventually needed bailouts.
Deutsche Bank strategist Mohit Kumar said that going forward into next year the European Central Bank must continue to play the role of bond buyer in order to stabilize the sovereign debt market.
"The key variable is the European Central Bank," said Kumar. "As an investor, people would be more happy with Italian yields if [the market is] not going to be disorderly. If the ECB steps up and shows more commitment to buying Italian [bonds,] investors would be more comfortable."
Many expect the ECB will announce an interest rate cut at its next policy meeting Dec. 8, but few expect any big bond buying statement.