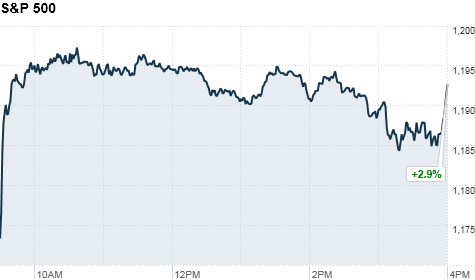 Click the chart for more stock market data.
NEW YORK (CNNMoney) -- U.S. stocks posted sharp gains Monday, following reports of strong Black Friday weekend sales and amid optimism that European leaders may be working toward a solution to the continent's debt crisis.
The Dow Jones industrial average (INDU) soared 291 points, or 2.6%, the S&P 500 (SPX) added 34 points, or 2.9%, and the Nasdaq composite (COMP) rose 86 points, or 3.5%. The advance broke a 4-day losing streak for the Dow and seven consecutive days of declines for the S&P 500 and Nasdaq.
The rally was broad, with all 30 Dow components gaining ground. All but a small handful of the S&P 500 and Nasdaq were also trading higher.
Financials were among the biggest winners, with Morgan Stanley (MS, Fortune 500), Wells Fargo (WFC, Fortune 500), Citigroup (C, Fortune 500), Goldman Sachs (GS, Fortune 500), and JPMorgan Chase (JPM, Fortune 500) and surging between 2% and 6%.
The mood on Wall Street was cheerful after major retailers reported record sales of $52.4 billion over Black Friday weekend -- up 16% from last year -- according to a survey by the National Retail Federation released Sunday.
Retailers like Wal-Mart (WMT, Fortune 500), Kohl's (KSS, Fortune 500), Costco (COST, Fortune 500), Target (TGT, Fortune 500), Gap (GPS, Fortune 500) and Home Depot (HD, Fortune 500) were up between 0.5% and 2.5%, while Best Buy (BBY, Fortune 500), Macy's (M, Fortune 500), Tiffany & Co. (TIF) and Saks Inc. (SKS) climbed between 3% and 6%.
"Holiday sales seem to be off to a strong start, and that's providing fuel to the market," said Dave Hinnenkamp, CEO at KDV Wealth Management. "Stocks have been trading down for days now, so this is a bounce on good news, but I wouldn't expect a straight-up rise from here."
Hinnenkamp cautioned that investors will keep a close eye on the debt crisis in Europe, which could continue to spark jerky moves in the market.
"As long at Europe's situation remains unresolved, we could see more volatility," he said. "But once we have some finite news -- a credible plan that deals with the problems rather than tinkering with the symptoms -- we could see an up trend in stocks."
Despite Monday's healthy rise, the major indexes remain in the red for the month and the year. The Dow is down 3.6% in November, and 0.5% for the year. The S&P 500 and Nasdaq are off about 5% for the month and year.
Last week, European bond yields spiked following a series of disappointing debt auctions, which further heightened fears of a contagion in the region and sent stocks about 5% lower for the week.
Europe's debt crisis: Hinnenkamp is optimistic that European leaders and policymakers will draw up a plan before the end of the year, especially now that Germany is starting to feel the pinch of its neighbors' severe debt struggles.
Last week, Germany, Europe's largest and healthiest economy, sold only €3.6 billion of the €6 billion 10-year bunds it had hoped to auction.
"The situation has been pushed to a point where France and Germany are realizing some of the pressure, whether they want to or not," said Hinnenkamp. "That should give a bit of a push toward a resolution.
On Monday, investors appeared to shrug off a warning by Moody's that the intensifying European debt crisis could lead to a downgrade of the region's sovereign debt.
While it's not new, reports about a coordinated effort to create some type of fiscal union in Europe appear to be lifting sentiment.
Meanwhile, the Organization for Economic Cooperation and Development called for policies to be put in place immediately to stop the eurozone debt crisis from spreading.
E.U. and U.S. leaders gathered for a summit in Washington on Monday to discuss Europe's crisis, among other issues.
While Europe's debt troubles have remained in the spotlight for months, investors are also worried about the U.S. deficit. Last week, the congressional super committee called it quits without reaching any agreement on debt reduction.
After the closing bell Monday, Fitch Ratings reaffirmed the United States' AAA credit rating but cut its oulook to negative from stable in the wake of the super committee's failure. The revised outlook presents a 50% chance that Fitch will downgrade the actual rating in the next two years.
Follwoing the summer's debt ceiling debacle, Standard and Poor's lowered the U.S. rating to AA-plus from the perfect AAA in August, and said its outlook was negative.
World markets: European stocks rallied and closed sharply higher Monday. Britain's FTSE 100 (UKX) jumped 2.9%, the DAX (DAX) in Germany soared 4.6% and France's CAC 40 (CAC40) climbed 4.9%.
Asian markets ended higher. The Shanghai Composite (SHCOMP) ticked up 0.1%, while the Hang Seng (HSI) in Hong Kong added 2% and Japan's Nikkei (N225) rose 1.6%.
Companies: Shares of Amazon (AMZN, Fortune 500) jumped after the online retailer said it sold four times more Kindles during this Black Friday weekend than the same period last year.
Apple (APPL) shares also rose after the retailer saw strong Black Friday sales, with reports showing that customers bought 14.8 iPads per hour, up 68% year-over-year. Customers bought 10.1 Macs per hour, up 23% from 2010.
Economy: New home sales rose 1.3% to an annual rate of 307,000 in October. Economists were expecting the annual rate to come in at 312,000.
Currencies and commodities: The dollar slumped against the euro and the British pound, but edged higher versus the Japanese yen.
Oil for January delivery jumped $1.44 to settle at $98.21 a barrel.
Gold futures for December delivery rose $25.10 to settle at $1,710.80 an ounce.
Bonds: The price on the benchmark 10-year U.S. Treasury ended little changed, and the yield held steady at 1.97%.