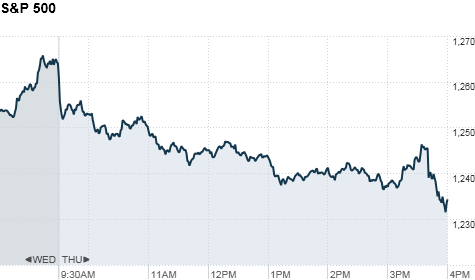 Click chart for more markets data.
NEW YORK (CNNMoney) -- U.S. stocks slipped Thursday as anxiety was high ahead of a crucial summit aimed at resolving the European debt crisis.
The stock sell-off accelerated in the last 20 minutes of trading, with all three indexes falling to their lows of the day, after a flurry of headlines put the likelihood of a debt crisis solution into question.
U.S. stocks were down throughout the day after European Central Bank President Mario Draghi refused to commit to offering broad assistance to troubled eurozone countries and emphasized "substantial downside risks" for the European economy.
Still according to market participants, much of Thursday's trading was maneuvering to bet on what EU leaders might accomplish during their meeting Friday to decide whether the countries will agree to closer political and economic coordination.
"Tomorrow could be one of the most important days in global markets," said Uri Landesman, president of the hedge fund Platinum Partners. "Nobody is insulated from the European Union."
The Dow Jones industrial average (INDU) ended the day down 199 points, or 1.6%. The S&P 500 (SPX) closed with a 27 point drop, or 2.1%. The Nasdaq (COMP) slid 53 points, or 2%. The S&P and Nasdaq dropped back into negative territory for the year.
Financial stocks cratered too. Bank of America (BAC, Fortune 500), Citigroup (C, Fortune 500), Goldman Sachs (GS, Fortune 500), Morgan Stanley (MS, Fortune 500) and JPMorgan Chase (JPM, Fortune 500) were all down between 3% and 9%.
"European Union troubles disproportionately affect financials," said Sal Catrini, equity product manager at Cantor Fitzgerald. "Banks have led this rally since Thanksgiving, so it's no surprise that when the market pulls back, they pull back further."
News reports ahead of the market close made U.S. investors that much more fearful going into tomorrow's trading day.
The declines once again reinforce the belief among investors that what happens in Europe can overshadow even continuing positive economic news out of the US or other economies. Investors ignored another round of positive US job numbers released Thursday morning.
Investors also shrugged off news that the European Central Bank cut its key interest rate by a quarter-percentage point Thursday morning, to 1%. The central bank was widely expected to cut its rates by up to 0.5%, as the risk of a broad recession in Europe continues to rise.
"The ECB took positive steps today," said Landesman. "Then this genius comes out and puts a damper on the whole thing. Why bother?"
Draghi dashed hopes -- at least in the near-term -- that the ECB would be likely to extend its reach to buy bonds of troubled European nations including Spain, Italy, and Portugal.
U.S. Treasury Secretary Tim Geithner is in Europe all week to meet with top government officials, highlighting the growing concern in Washington about the eurozone debt crisis.
U.S. stocks ended mostly higher Wednesday, as investors bet that European leaders will produce a meaningful solution to the debt crisis. But trading has been choppy this week, turning mainly on rumors about what the politicians may or may not announce after the summit.
Economy: The U.S. government reported Thursday that the number of people filing for initial unemployment benefits fell to a 9-month low of 381,000 in the latest week.
The news initially boosted markets ahead of the open, as jobless claims for the week ending December 3 were expected to hit 395,000, according to a survey of analysts by Briefing.com.
Wholesale inventories for the month of October came in higher-than-expected at 1.6%. Economists had predicted an 0.2% increase, after contracting by 0.1% the month prior.
World markets: European stocks closed lower. Britain's FTSE 100 (UKX) fell 1.1%, the DAX (DAX) in Germany lost 2.0% and France's CAC 40 (CAC40) moved down 2.5%.
Asian markets ended lower. The Shanghai Composite (SHCOMP) fell 0.1%, the Hang Seng (HSI) in Hong Kong dropped 0.7% and Japan's Nikkei (N225) fell 0.7%
Companies: Shares of Ford (F, Fortune 500) declined after the automaker announced a surprise quarterly dividend of 5 cents a share.
After weeks of speculation about how more than a billion dollars in customer money went missing at MF Global, former CEO Jon Corzine gave his side of the story on Capitol Hill Thursday.
"I simply do not know where the money is, or why the accounts have not been reconciled to date," Corzine said in a prepared statement to Congress. "I sincerely apologize, both personally and on behalf of the company, to our customers, our employees and our investors, who are bearing the brunt of the impact of the firm's bankruptcy."
Shares of discount retailer Costco (COST, Fortune 500) dropped after the company released quarterly results before the opening bell Thursday that missed analysts' expectations. The company reported earnings of 73 cents a share. Analysts surveyed by Thomson Reuters expected earnings of 80 cents a share.
Meat producer Smithfield Foods (SFD, Fortune 500) shares fell despite beating analysts' expectations, posting earnings of 76 cents a share.
Currencies and commodities: The dollar gained strength against the euro, the British pound and Japanese yen.
Oil for December delivery fell $2.48 to $98.01 a barrel.
Gold futures for February delivery dropped $31.80 to $1,713.00 an ounce.
Bonds: The price on the benchmark 10-year U.S. Treasury was little changed, with the yield falling below 2%.