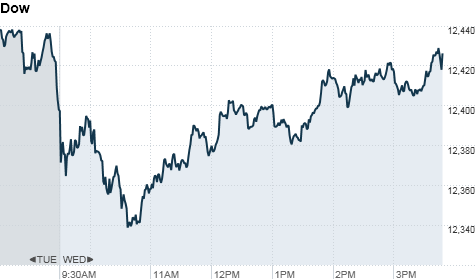 Click for more market data.
NEW YORK (CNNMoney) -- U.S. stocks clawed back from earlier losses to close mixed Wednesday amid renewed concerns about the debt crisis in Europe.
The Dow Jones industrial average (INDU) rose 22 points, or 0.2%, according to early tallies. The S&P 500 (SPX) edged up less than 1 point, while the Nasdaq (COMP) lost less than 1 point.
Stocks were supported by strong sales gains by the main U.S. automakers and a rise in November factory orders. But the tone was cautious as jitters surrounding Europe's debt crisis resurfaced.
"We had a bit of economic news today, but I think it has more to do with European banks possibly needing more capital and general debt concerns in the eurozone," said Anthony Conroy, head trader at BNY ConvergEx Group.
Shares of Italy's UniCredit plunged on the Milan stock exchange after the bank announced a €7.5 billion offering of new shares. The offering drew lackluster demand despite a steep discount, according to local media reports.
European banks are facing new capital requirements this year and conditions in the wholesale funding market remain chilly.
The European Central Bank recently pumped nearly €500 billion into the banking sector, but much of that money appears to have been redeposited at the central bank. Banks have stashed a record €453.2 billion at the ECB's deposit facility, according to data published Wednesday.
Shares of U.S. banks pared Tuesday's gains, with Bank of America (BAC, Fortune 500), Citigroup (C, Fortune 500) and JPMorgan (JPM, Fortune 500) all lower.
Meanwhile, reports that Spain might seek rescue funding also weighed on sentiment. But a spokeswoman for the Spanish government told CNN the reports were "a complete lie" and "radically false."
On Tuesday, negotiators representing Greek bondholders said that progress had been made towards a deal to halve the nation's debt load.
European Union leaders hold their first summit of 2012 on Jan. 30. Political leaders hashed out a fiscal agreement in early December, but investors remain skeptical about how effective it will be.
"People still have half an eye on Europe," said Joseph Saluzzi, co-head of equity trading at Themis Trading. "Everybody knows we're just one headline away from another drop."
Stocks staged a rally Tuesday on strong manufacturing reports from China, India and the United States.
World markets: European stocks closed lower. Britain's FTSE 100 (UKX) lost 0.5%, while the DAX (DAX) in Germany shed 0.9% and France's CAC 40 (CAC40) slid 1.6%.
Asian markets finished mixed. The Nikkei (N225) gained 1.2%, while the Shanghai Composite (SHCOMP) fell 1.4% and the Hang Seng (HSI) lost 0.8%.

Companies: Yahoo (YHOO, Fortune 500) named PayPal president Scott Thompson as its new CEO.
Ford (F, Fortune 500) shares rose after the automaker said sales rose 11% in December and were up 10% in 2011. Shares of crosstown rival GM (GM, Fortune 500) edged higher after it reported a sales increase of 4.5% in December and 13% for the year.
Eastman Kodak (EK, Fortune 500) shares dropped sharply Wednesday following a report that the company was preparing for a possible bankruptcy filing.
Caterpillar (CAT, Fortune 500) shares fell after the construction equipment manufacturer announced it will expand its research and development center in Wuxi, China.
Dunkin' Brands (DNKN) shares climbed after the company announced it plans to double the number of its Dunkin' Donuts restaurants in the United States in the next 20 years. The chain currently operates about 7,000 restaurants nationwide.
Cabot Oil & Gas (COG) announced a 2-for-1 stock split, after its stock rallied 105% over the last year. The company also plans to increase its quarterly dividend 33%.
Economy: The Census Bureau said factory orders rose 1.8% in November, following a 0.2% decrease the month before. Analysts surveyed by Briefing.com were expecting an increase of 2.1%.
Currencies and commodities: The dollar rose against the euro and British pound and the Japanese yen.
Oil for February delivery fell 38 cents to $102.58 a barrel.
Gold futures for February delivery rose $12.70 to $1,613.20 an ounce.
Bonds: The price on the benchmark 10-year U.S. Treasury fell, pushing the yield up to 1.97%.