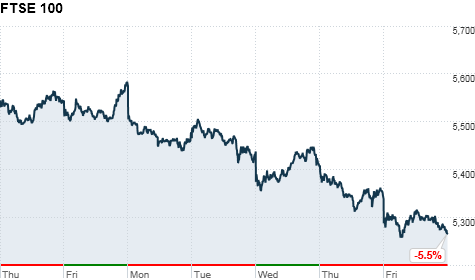 Click on chart to track markets
NEW YORK (CNNMoney) -- European and Asian markets closed lower on Friday amid anxiety about Spanish and Greek banks and worries of a further slowdown in China.
London's FTSE (UKX) fell 1.3%, the DAX (DAX) in Frankfurt dropped 0.6% and the CAC 40 (CAC40) in Paris slipped by 0.1%.
European markets are "plagued" by the Moody's downgrade of 16 Spanish banks, according to Deutsche Bank analysts Colin Tan and Jim Reid.
Moody's blamed its downgrade on "adverse operating conditions, characterized by the renewed recession, the ongoing real estate crisis and persistent high levels of unemployment" in Spain.
Also on Thursday, Moody's Investors Service downgraded four regions of Spain because of poor fiscal performance.
"It's not going to go down in history as a great day for Spanish banks," said Investec analysts Elisabeth Afseth and Brian Barry.
Shares of Spain's largest bank, Bankia, plummeted 14% Thursday over fears that Spaniards would make a run on the nationalized bank. But the stock recovered Friday after Bankia reportedly said depositers "have nothing to fear." The bank's stock surged 23.5% at the close.
Spain's IBEX 35 index also showed mild signs of strength Friday, edging up 0.4%. Banco Santander (STD) jumped 3.6% in U.S. trading and Banco Bilbao Vizcaya Argentaria (BBVA) gained 4.9%.
A similar situation was unfolding in Greece, where consumers and businesses were making massive withdrawals from banks. Also, Fitch Ratings downgraded Greek government debt deeper into junk bond territory on Thursday .
The yield on the 10-year Spanish bond remained above 6% Friday, a level that tends to make investors nervous about the potential need for a bailout. The 10-year yield on Greek debt surged to 29%
Meanwhile, worries about a growth slowdown in China, coupled with a stronger yen, pushed Asian stocks lower.
The Hang Seng (HSI) in Hong Kong closed down 1.3% and the Nikkei (N225) in Tokyo plummeted 3% at the close.
The Deutsche Bank analysts said the Asian markets were "reacting to further signs of slowdown in China," noting that home prices are falling in most Chinese cities and that the China Securities Journal projects a slowdown in GDP to 7.5% in the second quarter.
In the U.S., Wall Street was headed for a higher open, as investors prepared for the initial public offering of Facebook.
The S&P 500 (SPX), the Nasdaq (COMP) and the Dow Jones industrial average (INDU) were flat, more or less, in midday trading.
U.S. Treasuries, considered a safe haven, continued to draw strong demand. The yield on the 10-year note closed at a record low Thursday and continued to hover around 1.75% on Friday.