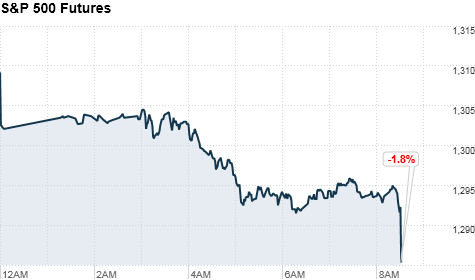 Click on chart for more premarket data
NEW YORK (CNNMoney) -- Stock futures plunged, the 10-year yield on U.S. Treasuries hit another record low and a world market sell-off gained steam early Friday after a U.S. jobs report fell far short of expectations.
The jobs report showed only 69,000 jobs added to payrolls, far below the 150,000 jobs forecast by economists surveyed by CNNMoney. The unemployment rate crept up to 8.2%.
U.S. stocks were already headed for an ugly start due to weakness in Chinese manufacturing figures and a report showing eurozone unemployment rate at a record high of 11%. (Unemployment rate - explain it to me)
Following the dismal jobs report, the yield on the 10-year Treasury note fell as low as 1.46%.
The Dow Jones industrial average (INDU), S&P 500 (SPX) and Nasdaq (COMP) futures were down between 1.5% and 1.9% ahead of the opening bell. Stock futures indicate the possible direction of the markets when they open at 9:30 a.m. ET.
The CNNMoney Fear and Greed index showed investor confidence sliding even farther into "extreme fear" territory on the news.
Two manufacturing reports out of China Friday morning showed that the sector contracted more than expected in May, fueling investors concerns that the country may be headed for a hard landing.
As global economic growth has slowed in the last year, exports to Europe -- China's largest foreign market -- have taken a hit as the debt-ridden region teeters on the brink of recession.
Employers in Europe slashed 110,000 jobs across the eurozone in April, as the unemployment rate hit 11% -- the highest level since the creation of the common currency. A new manufacturing reading there Friday also showed more weakness.
Worries about Spain's possible inability to fund bank bailouts continue to build. The yield on 10-year Spanish debt climbed back to 6.6% Friday. Meanwhile the flight to quality took the yield on the German 10-year down to a record low of 1.16%, while the 2-year German bond briefly had a negative yield.
U.S. stocks finished in the red Thursday, ending a difficult month on a weak note. The Dow and S&P 500 dropped more than 6% in May, while the Nasdaq shed more than 7%.
World markets: European stocks fell in morning trading. Britain's FTSE 100 (UKX) shed 0.9%, while the DAX (DAX) in Germany tumbled 2.7% and France's CAC 40 (CAC40) dropped almost 2%.
Asian markets ended mixed. The Shanghai Composite (SHCOMP) closed slightly above breakeven, while the Hang Seng (HSI) in Hong Kong slid 0.4% and Japan's Nikkei (N225) fell 1.2%.
Economy: Personal income and personal spending for April increased 0.2%. Analysts had expected the figure to increase by 0.3%.
The May installment of the ISM Manufacturing Index is expected to come in at 54, down from 54.8 last month. April construction spending is expected to have increased by 0.5%.
Companies: Shares of Facebook (FB) hit a fresh low of $26.83 Thursday before bouncing back, ending the day up 5% at $29.60. The stock resumed its downward push Friday, shedding 4% in premarket trading.
Shares of food producer Sara Lee (SLE, Fortune 500) rose 1.3% in premarket trading after the company said it was spinning off its international coffee and tea business, which will pay a special dividend to existing Sara Lee shareholders. Sara Lee also announced a 1-for-5 reverse stock split.
Oil company BP (BP) said it was considering selling its 50% stake in TNK-BP, a Russian oil joint venture, after it received an unsolicited bid for that holding. Shares of BP gained 2.1% in London trading and 0.9% in premarket trading in the U.S.
Automakers are due to report May sales throughout the day Friday, and industry-wide U.S. sales could reach the highest level since 2007, according to forecasts. U.S. automakers General Motors (GM, Fortune 500) and Ford Motor (F, Fortune 500) are both forecast to post double-digit sales gains, but they're likely to lose market share to Toyota Motor (TM), Honda (HMC) which are both expected to post 40% or larger increases compared to weak sales results a year ago. Chrysler Group posted a 30% increase in sales, but that was far below forecasted gains.
Groupon (GRPN) shares fell 7% in premarket trading. The online discount service, which has been dogged with questions about its accounting practices since its initial public offering in November, has its lock-up period end today, meaning that insiders who own shares will be able to sell them.
Currencies and commodities: The dollar rose against the euro and British pound, but fell versus the Japanese yen.
Oil for July delivery slid $2.40 to $84.13 a barrel.
Gold futures for August delivery dropped $12.00 to $1,552.20 an ounce.