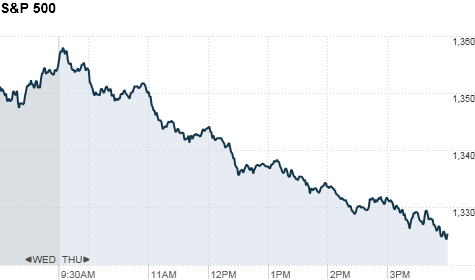 Click chart for more markets data.
NEW YORK (CNNMoney) -- All three major U.S. indexes fell roughly 2% Thursday as investors fled the market on fears of slowing global growth and rumors of an imminent Moody's downgrade of major global banks.
Analysts at Goldman Sachs (GS, Fortune 500) compounded fears when they sounded alarm bells over the health of the stock market late Thursday morning. In a report, analysts told investors to short, or sell, the S&P 500 until it falls at least 5% below current levels.
Adding to investors' fears, an audit of Spanish banks showed that the government plans to request up to €62 billion of aid for the ailing nation's banks. All these factors created a perfect storm to prompt a sharp sell-off.
"Traders and investors are really spooked today," said Sal Arnuk, co-head of equity trading at Themis Trading.
Still, Arnuk cautioned that trading volume remained light, which can cause some wild gyrations.
The Dow Jones industrial average (INDU) lost 251 points, or 2%. The S&P 500 (SPX) fell 30 points, or 2.2%. The Nasdaq (COMP) slipped 71 points or 2.4%.
Commodity prices fell even more precipitously than the stock market, with gold, copper and oil dropping more than 2%. Oil prices continued to hit new lows, falling below $80 a barrel for the first time since early October. Silver fell more than 5%.
Commodity-related stocks took a big hit, with shares of Exxon Mobil (XOM, Fortune 500), Chevron (CVX, Fortune 500) and Alcoa (AA, Fortune 500) among the Dow's biggest decliners. All 30 Dow stocks with the exception of Merck (MRK, Fortune 500) and Verizon (VZ, Fortune 500) ended the day lower.
Bank stocks also sold off sharply, with Bank of America (BAC, Fortune 500), Citigroup (C, Fortune 500), Goldman Sachs (GS, Fortune 500), and JPMorgan Chase (JPM, Fortune 500) all dropping more than 2%. Morgan Stanley, the bank subject to the largest possible downgrade, fell less than its peers, at 1.7%.
Early Thursday, a report showed Chinese manufacturing fell to a seven-month low -- a sign that factories there are being hit by sluggish demand, according to a preliminary reading of the HSBC Manufacturing Purchasing Managers' Index.
Meanwhile, Europe's PMI index for June remained near a three-year low, as manufacturing output in Germany -- the most important European economy -- fell at the fastest rate in three years. It was the second straight month of decline.
Investors were already in a down mood heading into the trading day, disappointed that Federal Reserve didn't take more action at the end of its two-day meeting Wednesday.
"People are coming to the realization that the Fed is pretty much a sideshow to what the European Central Bank does," said Dan Greenhaus, head equity strategist at BTIG. "The Fed has become a slave to events rather than the dictator."
U.S. stocks closed mixed Wednesday following the Fed's announcement.
CNNMoney's own Fear and Greed index shows investors are less fearful, although still in fear territory. The index had been in extreme fear territory until last week.
World markets: European stocks closed lower. Britain's FTSE 100 (UKX) slid 0.9%. France's CAC 40 (CAC40) lost 0.3% and the DAX (DAX) in Germany moved down 0.5%.
Eurozone finance ministers gathered in Luxembourg for a two-day summit.
The continent's leaders are facing pressure to announce new measures to combat their sovereign debt crisis, which remains of grave concern even after news that Greek politicians formed a coalition government led by a pro-bailout party.
Spain's bond auction of 2-, 3- and 5-year bonds Thursday morning resulted in 2-year yields doubling from the prior auction, and sent yields for the 5- and 7-year notes also markedly higher. But the yield on the benchmark 10-year Spanish bond, which pushed past 7% earlier this week, fell to 6.5%.
Asian markets ended mixed after the China manufacturing report and in reaction to the Fed meeting. The Shanghai Composite (SHCOMP) lost 1.4%, while the Hang Seng (HSI) in Hong Kong was down 1.3%. But Japan's Nikkei (N225) gained 0.8%.
Economy: The Labor Department reported there were 387,000 first-time filings for unemployment benefits in the week ended June 16. That was little changed from the prior week but a bit above the forecast of 380,000 from economists surveyed by Briefing.com.
Existing home sales for May came in slightly below expectations at an annualized rate of 4.55 million, according to the National Association of Realtors.
The Conference Board's Leading Economic Indicators index for May came in higher than expected, increasing 0.3%, after decreasing by 0.1% in April.
The Philadelphia Fed's manufacturing index indicated a steep decline of 16.6%, which was significantly worse than the 0.2% drop that economists predicted. A month ago that drop was 5.8%.
Companies: Shares of drugstore chain Rite Aid (RAD, Fortune 500) rose after it reported a loss of 3 cents a share, a bit better than analysts surveyed by Thomson Reuters expected, and better than the 7 cents a share it lost a year earlier.
Shares of Bed Bath & Beyond (BBBY, Fortune 500) sank more than 16% after the retailer offered disappointing guidance for the current quarter after Wednesday's close.
Shares of open-source software provider Red Hat (RHT) fell after it posted a better-than-forecast gain in earnings late Wednesday, but reported disappointing billings for the quarter.
Food maker ConAgra (CAG, Fortune 500) posted a better-than-expected increase in operating earnings, pushing shares higher. The company said fiscal-year profit would also rise more than current forecasts. But a charge related to its pension plans resulted in it reporting a net loss.
Cigarette maker Philip Morris International (PM, Fortune 500), which sells the brands of Altria Group (MO, Fortune 500) such as Marlboro in overseas markets, cut its full-year earnings guidance, citing a bigger hit from currency exchange rates.
Dow component Johnson & Johnson (JNJ, Fortune 500) is close to settling a probe with the Justice Department into the company's promotion of the antipsychotic drug Risperdal, which could include a payment of $1.5 billion, according to a report in the Wall Street Journal.
The payment would be the largest ever for the company, according to the report, but it would avoid a felony charge that could prevent the company from selling its medicines to government health programs such as Medicare. Shares of J&J were down.
Currencies and commodities: The dollar rose against the euro and Japanese yen, but lost ground versus the British pound.
Gold futures for August delivery dropped $50.30 to $1,565.50 an ounce.
Bonds: The price on the benchmark 10-year U.S. Treasury was higher, pushing the yield down to 1.62% from the 1.66% level reached late Wednesday.