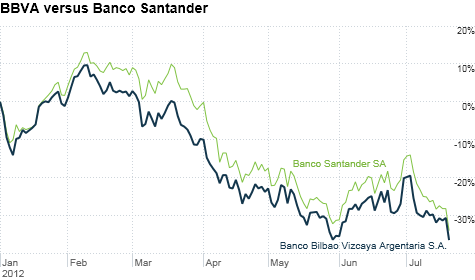 Click on chart to track world markets
NEW YORK (CNNMoney) -- World markets fell into a sinkhole Monday -- and Spain's to blame, with indications it need further international support.
European markets ended sharply lower, with the CAC 40 (CAC40) in France falling 2.9%, the DAX (DAX) in Frankfurt tumbling 3.2% and London's FTSE (UKX) sliding 2.1%.
Asia markets were also affected, with the Hang Seng (HSI) in Hong Kong skidding 3%, the Nikkei (N225) in Tokyo falling 1.9% and the Shanghai Composite (SHCOMP) dropping 1.3%.
The contagion spread to Wall Street. The Dow Jones (INDU) industrial average plunged 160 points, or 1.2%, in afternoon trading. The S&P 500 (SPX) dropped 1.4% and the Nasdaq (COMP) retreated 1.8%.
Last week, eurozone finance ministers agreed to provide up to €100 billion in bailout funds for Spanish banks. But some say that's not enough to keep the eurozone's fourth largest economy afloat.
"The major news has been worrying about not just the banks, but the regions of Spain," said Nick Stamenkovic, fixed income strategist in Edinburgh at RIA Capital Markets. "Not only is the sovereign going to bail out the banks, they're going to have to bail out the regions."
Spanish 10-year bond yields surged to a record high of 7.56%, before backing off to 7.49%.
Spanish stocks didn't suffer as much as the major European markets. The benchmark IBEX index ended down by 1.1% after dropping as much as 3.4% in midday trading. Leading bank stocks BBVA (BBVA) and Banco Santander (SAN) both closed with modest gains, recovering from earlier losses of as much as 5%.
Stamenkovic said that international investors are freaking over the "feeling that Spain is on a unsustainable path."
Spain has long been plagued by high unemployment rates -- particularly among the youth -- and a sluggish economy. In the latest economic report, the country's gross domestic product continued to decline by 0.4% in the second quarter.
"That certainly didn't help sentiments," said Stamenkovic. "It shows that the Spanish economy is showing no signs of recovery."
Further compounding the fiscal problems in Spain, the leadership is calling for more austerity-related budget cuts, in addition in raising taxes, sparking violent protests in Madrid earlier this month.
Spanish newspaper El Pais didn't mince words about what this could mean for the country's fiscal state, with its headline blaring, "Spain enters the eye of the hurricane with maximum historical premium."