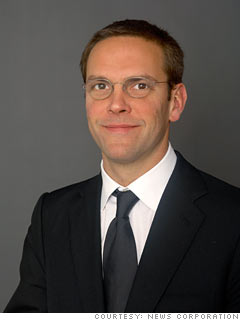 Chairman and CEO, Europe and Asia
News Corp. (NWSA) Age:
36
2008 Total compensation*:
$10.15 million
The second son of media titan Rupert Murdoch -- older brother Lachlan left his job at News Corp. in 2005 but still sits on the board -- James is the heir apparent to his father's $33 billion empire (and No. 3 on our 40 Under 40 list).
As the head of the company's publishing, television, and digital interests in Europe and Asia, he oversees News International (publisher of The Times and The Sun in London), SKY Italia, and Star TV, and serves as the non-executive chairman of British SKY Broadcasting.
Source: Equilar Inc.
NEXT: George L. "Mike" Mikan III
Last updated February 24 2010: 12:57 PM ET
Note: *Total compensation includes actual salary received, discretionary and performance-based bonus payouts, the grant-date fair value of new stock and option awards and other compensation. If relevant, other compensation includes severance payments.
Equilar Inc., an executive compensation research firm
in Redwood Shores, Calif., chart by looking at Fortune 1000 companies with fiscal year ends ranging from July 2008 to June 2009 that filed proxies by October 5, 2009.
Note: To be eligible for the 20 highest paid list, candidates had to be 39 or younger on Nov. 1, 2009.