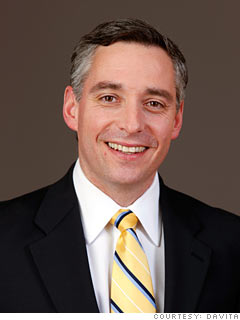 Senior Vice President
DaVita (DVA) Age:
39
2008 Total compensation*:
$2.64 million
Another young moneymaker in the healthcare field, Rodriguez is a top executive at DaVita, an El Segundo, Calif.-based operator of kidney dialysis centers and related health services with $5.6 billion in sales. Rodriguez handles the company's relationships with insurance companies and is responsible for the operation of 300 dialysis clinics.
Prior to joining DaVita in 1998, he worked for Baxter Healthcare Corp. and was director of operations for CBS Marketing in Mexico City. Rodriguez studied finance and marketing at Boston College, then earned an MBA from Harvard.
Source: Equilar Inc.
NEXT: Paul S. Amos II
Last updated February 24 2010: 12:57 PM ET
Note: *Total compensation includes actual salary received, discretionary and performance-based bonus payouts, the grant-date fair value of new stock and option awards and other compensation. If relevant, other compensation includes severance payments.
Equilar Inc., an executive compensation research firm
in Redwood Shores, Calif., chart by looking at Fortune 1000 companies with fiscal year ends ranging from July 2008 to June 2009 that filed proxies by October 5, 2009.
Note: To be eligible for the 20 highest paid list, candidates had to be 39 or younger on Nov. 1, 2009.