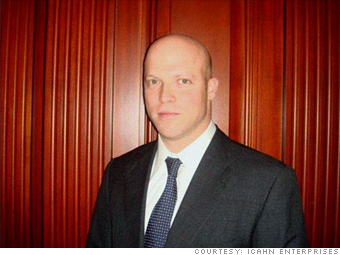 Principal Executive Officer & Vice Chairman
Icahn Enterprises (IEP) Age:
36
2008 Total compensation*:
$3.00 million
It can't be easy working for takeover king and activist investor Carl Icahn, so it's not surprising the pay's good.
At Icahn's holding company of diversified interests, Meister oversees gaming and real estate holdings. He's also a senior investment analyst at Icahn's High River Limited Partnership and is a director of the Icahn Fund. Prior to working for the billionaire, Meister co-founded an IT and software venture capital fund and worked in investment banking at Lazard Freres.
Source: Equilar Inc.
NEXT: Javier Rodriguez
Last updated February 24 2010: 12:57 PM ET
Note: *Total compensation includes actual salary received, discretionary and performance-based bonus payouts, the grant-date fair value of new stock and option awards and other compensation. If relevant, other compensation includes severance payments.
Equilar Inc., an executive compensation research firm
in Redwood Shores, Calif., chart by looking at Fortune 1000 companies with fiscal year ends ranging from July 2008 to June 2009 that filed proxies by October 5, 2009.
Note: To be eligible for the 20 highest paid list, candidates had to be 39 or younger on Nov. 1, 2009.