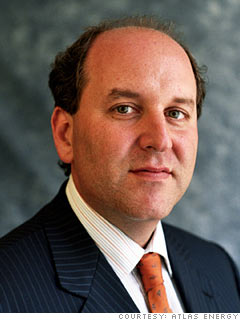 Vice chairman, Atlas Energy Resources, Atlas Energy Management
Atlas Energy** (ATLS) Age:
38
2008 Total compensation*:
$4.29 million
Another family affair: With its holding company made up of various components -- Atlas Energy Resources, Atlas Pipeline Partners, and Atlas Pipeline Holdings -- the Pennsylvania-based Cohen family has made a profitable business with tax-advantaged investments in the oil and gas industry.
Jonathan Cohen, the son of CEO Edward E. Cohen, earned a hefty $4 million-plus at Atlas last year. That doesn't include his other jobs as CEO of his father's Resource Capital Corp., a separate commercial real estate investment trust based in New York and Philadelphia that trades on the NYSE, as well as hedge fund Castine Partners.
Source: Equilar Inc.
NEXT: Wayne S. Deveydt
Last updated February 24 2010: 12:57 PM ET
**Changed its name from Atlas America Sept. 29, 2009.
Note: *Total compensation includes actual salary received, discretionary and performance-based bonus payouts, the grant-date fair value of new stock and option awards and other compensation. If relevant, other compensation includes severance payments.
Equilar Inc., an executive compensation research firm
in Redwood Shores, Calif., chart by looking at Fortune 1000 companies with fiscal year ends ranging from July 2008 to June 2009 that filed proxies by October 5, 2009.
Note: To be eligible for the 20 highest paid list, candidates had to be 39 or younger on Nov. 1, 2009.