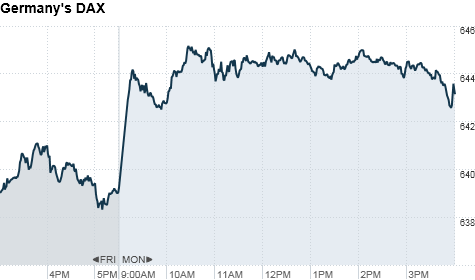 Click the chart to track other global markets.
NEW YORK (CNNMoney) -- China's move to keep its economy going lifted stock markets around the world Monday, as investors wait to see if Greece will secure a second bailout.
Over the weekend, China's central bank said it would cut the amount banks must hold in reserve by 0.5% to boost lending and sustain strong economic growth. China's decision comes as the fast-growing country tries to keep inflation under control without thwarting economic growth.
The Shanghai Composite (SHCOMP) edged up 0.3%, and Japan's Nikkei (N225) rose more than 1% to close at its highest level since August. The Hang Seng (HSI) slipped 0.3%.
China's central bank may still be concerned about inflation, but "the last thing it wants is to be blamed for keeping policy too tight and causing growth to slow unnecessarily in a leadership-transition year when China still faces the threats of a global slowdown and a property sector downturn at home," said Mark Williams, chief Asia economist at Capital Economics, in a research note.
European stocks also benefited from China's move. Britain's FTSE 100 (UKX) added 0.7%, the DAX (DAX) in Germany rose 1.5% and France's CAC 40 (CAC40) gained 1%.
U.S. markets are closed Monday for Presidents' Day.
Beyond China, there is growing hope that Greece will make progress on a second bailout when finance ministers meet Monday, said Kathy Lien, director of currency research at Global Forex Trading.
After weeks of delays, eurozone finance ministers meeting in Brussels are expected to make a decision on a €130 billion bailout from the European Union, International Monetary Fund and European Central Bank.
Expectations are high, as "there have promises from high level officials that 'decisions' will be made," said Lien.
Greek Finance Minister Evangelos Venizelos was also optimistic heading into Monday's meeting, saying that Greece is "coming in today's crucial meeting of the Eurogroup having fulfilled all the conditions had been approved to the new program," including an agreement its creditors in the private sector to write down a large portion of its debts.
But investors from the private sector have not confirmed a deal.
Greece needs the money to avoid defaulting on a €14.5 billion bond payment due March 20.
Meanwhile, Wal-Mart (WMT, Fortune 500) said it is increasing its investment in Yihaodian, a Chinese e-commerce website, bring its stake in the company to 51%.
Japan posted a record ¥1.475 trillion trade deficit in January as the strong yen pressured exports.