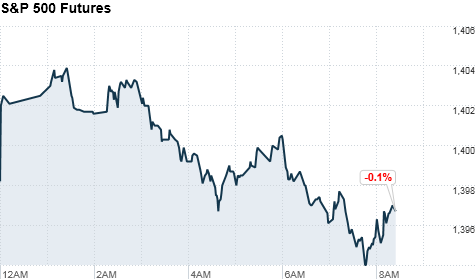 Click the chart for more premarket data.
NEW YORK (CNNMoney) -- U.S. stocks were headed for a muted open Thursday as investors digested a handful of economic reports, including the latest data on unemployment claims. Chinese economic data was also in focus.
Dow Jones industrial average, S&P 500 and Nasdaq futures were little changed ahead of the opening bell.
U.S. stocks have been on a run recently, with four straight days of gains for the Dow and S&P 500 pushing the indexes to their highest levels since early May. But trading volume has been light and is expected to remain that way through Labor Day.
Thursday morning brings reports on initial jobless claims, the trade balance and wholesale inventories.
Investors also digested a duo of economic reports out of China early Thursday. Industrial production in the world's second-largest economy slowed for a third straight month in July. However, inflation in China eased to the slowest rate in two-and-a-half years.
The data fueled hopes that China's central bank might intervene with more stimulus measures to boost economic growth.
"It is worth remembering that the first benchmark rate cut was introduced only two months ago," said Mark Williams, chief China economist at Capital Economics. "The full impact of loosening to date has yet to be felt. And there is plenty of room for further stimulus."
Meanwhile, investors will also continue to eye quarterly financial results. Nearly 90% of S&P 500 companies had reported their quarterly results as of Wednesday. Earnings are on pace to grow just 0.9% overall.
On the bright side, 65% of the companies topped Wall Street expectations, higher than the average rate of 62% over the past decade.
Beyond American shores, Europe remains a source of anxiety, with worries about a potential Spanish bailout particularly acute. Borrowing costs for Spain and Italy are uncomfortably high, with the Spanish 10-year yield hovering around 7% and the Italian 10-year yield just below 6%.
U.S. stocks ended little changed Wednesday as investors took a breather from the recent run-up.
World markets: European stocks were lower in afternoon trading. Britain's FTSE 100 slipped 0.1%, France's CAC 40 declined 0.2%, while the DAX in Germany fell 0.6%.
Asian markets ended with solid gains. The Shanghai Composite rose 0.6%, and the Hang Seng in Hong Kong and Japan's Nikkei both added more than 1%.
China's annual inflation rate fell to 1.8% in July, the government's National Bureau of Statistics reported Thursday, down from 2.2% in June. That's the lowest inflation rate in two-and-a-half years.
Industrial production slowed to 9.2% from a year earlier in July, according to China's National Bureau of Statistics. The reading marked the slowest rate of growth since May 2009.
Economy: The number of first-time U.S. unemployment claims fell 6,000 to 361,000 last week, the government said. Analysts were expecting 375,000 claims during the week.
The U.S. trade deficit narrowed to $42.9 billion in June, from $48 billion the prior month. Analysts were expecting the deficit to stand at $47.5 billion.
At 10 a.m. ET, the Census Bureau will release data on June wholesale inventories, which are expected to have increased by 0.3%.
Companies: Wendy's (WEN) reported a $5.5 million loss for the second quarter, but the fast food chain's stock moved higher as sales at restaurants open at least 15 months rose 3.2% during the quarter.
Kohl's (KSS, Fortune 500) posted second-quarter results that beat estimates, but sales were weaker than expected. The retailer cut its forecast for the quarter and said it expects same-stores sales growth during the quarter to be flat to 2%.
Nordstrom (JWS) is schedule to report after the closing bell.
News Corp. (NWSA, Fortune 500) reported quarterly results that met expectations on earnings but missed on sales.
Shares of A123 Systems (AONE) were sharply higher in premarket trading after the battery maker said that Chinese auto parts maker Wanxiang Group is going to invest $450 million in the company, a step that that CEO David Vieau said helps "remove the uncertainty regarding A123's financial situation."
British soccer team Manchester United is expected prices its shares of its initial public offering Thursday night, and begin trading on the New York Stock Exchange Friday under the symbol "MANU."
Currencies and commodities: The dollar rose against the euro, the British pound and the Japanese yen.
Oil for September delivery rose 55 cents to $93.90 a barrel.
Gold futures for December delivery rose 50 cents to $1,116.50 an ounce.
Bonds: The price on the benchmark 10-year U.S. Treasury rose, and the yield stood around 1.68%.