Some of the nation's leading business owners, investors, and thinkers share their thoughts on rebuilding your wealth.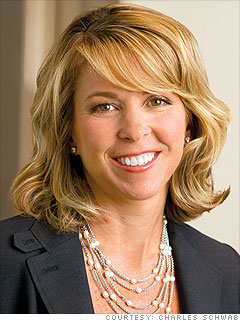 Liz Ann Sonders
Chief investment strategist at Charles Schwab; chairs the firm's investment strategy council
Best advice I can give:
One thing I see with our clients and individual investors is an aversion to risk, and a favoring of fixed-income funds and Treasuries. In the past 20 years, we've been in an environment that's been good to bonds relative to stocks. But it's rare for that to happen over an extended period -- and the last two times it happened, the subsequent five-year period favored stocks.
Best advice I ever got:
The first time I was on Louis Rukeyser's show, Wall Street Week, Lou came over to me as I was standing just off set and he asked, "Were your parents finance people?" And I said, "No, they know very little about the market. This isn't their vocation."
And he told me, "Do me a favor. When you go out to do the show, get them -- your parents -- to understand what you are talking about. People are always trying to make finance more complicated than it needs to be."
NEXT: When you invest, focus on price