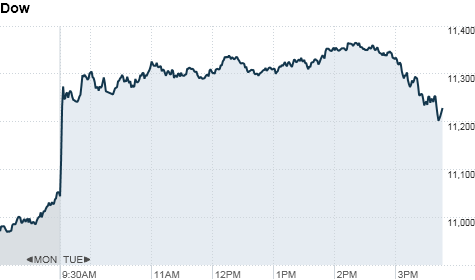 Click the chart for more market data.
NEW YORK (CNNMoney) -- Stocks rose Tuesday, ending higher for a third day, as investors grew more optimistic about Europe's debt crisis being resolved.
But the advance lost momentum in the final hour of trading after a report in the Financial Times raised questions about a proposed second bailout for Greece.
The Dow Jones industrial average (INDU) rose 146 points, or 1.3%, to close at 11,190. The S&P 500 (SPX) added 12 points, or 1%, to 1,175. The tech-heavy Nasdaq (COMP) gained 30 points, or 1.2%, to 2,547.
Stocks opened higher and rallied for most of the day, with the Dow rising 300 points in the afternoon, amid hopes that European leaders will take bolder steps to resolve the long-standing sovereign debt problems.
Those hopes were tempered after the FT said euro area policymakers are at odds over a plan to provide Greece with a second €109 billion bailout.
The newspaper said some members of the 17-nation currency bloc are arguing for creditors to accept larger losses on Greek bonds, calling into question a key aspect of the rescue plan announced July 21.
According to the report, officials in Germany and the Netherlands are leading the charge for banks to take larger "hair cuts" on loans to Athens. But the idea is strongly opposed by France and the European Central Bank, which holds billions of Greek bonds on its books.
Shares of major U.S. banks were the main laggards in the final hour of trading. Bank of America (BAC, Fortune 500) and JPMorgan (JPM, Fortune 500) fell, while Wells Fargo (WFC, Fortune 500) and Goldman Sachs (GS, Fortune 500) pared earlier gains.
Earlier, investors had cheered news that the Greek Parliament approved a new property tax that could help set the stage for the debt-stricken nation to receive more bailout money.
The development helped "solidify the idea in the market that Europe is working towards solving the crisis," said Nick Kalivas, vice president of financial research at MF Global.
"There's a belief that the ECB is going to be more aggressive and that there will be some backstop for banks announced in the next few weeks," said Kalivas. But he cautioned that the optimism seems to be "driven more by rumors than anything concrete."
On Monday, stocks surged in the last hour of trading, as investors focused on reports that a new plan to ease Europe's debt crisis was afoot.
Under one of the plans reportedly being discussed, troubled banks would be able to swap bad debt for bonds backed by the European Investment Bank.
But doubts remain that the action, should it occur, would bring the crisis to a complete resolution given the continent's extremely heavy debt burden.
European leaders are under intense pressure to help Greece avoid a default, something investors fear could shock the global financial system.
Greek Prime Minister George Papandreou pledged that Greece will meet all of its financial obligations, saying the nation will "fight our way back to growth and prosperity."
Greece has been in talks with officials from the International Monetary Fund and other euro area nations over budget targets Athens needs to meet in order to obtain its next installment of emergency funding.
Without the next €8 billion tranche, Greece is expected to run out of the cash it needs to pay its bills next month.
"Europe's problems are manageable, but they need to be managed," Jeff Kleintop, chief market strategist for LPL Financial, wrote in a note to clients. "The market moves seen last week push policymakers closer to the tough decisions needed to take decisive action and regain the confidence of investors."
On Tuesday, gold and silver prices also rebounded, bolstering shares of Ishares Silver Trust (SLV) and Spdr Gold Trust (GLD), as well as gold and silver miners, including Silver Wheaton (SLW), BHP Billiton (BHP) and Freeport-McMoran (FCX, Fortune 500).
Gold prices jumped 3.6% to $1,652.50 an ounce, while silver rallied 5.2% to $31.54 an ounce.
Oil gained 5.2% to $84.45 a barrel. The rally in oil prices helped support shares of energy producers Exxon (XOM, Fortune 500) and Chevron (CVX, Fortune 500).
Bonds: The price on the benchmark 10-year U.S. Treasury fell, pushing the yield up to 2% from 1.81% late Monday.
Economy: Home prices across 20 major U.S. cities rose 0.9% in July from a month earlier, according to the S&P/Case-Shiller index. But prices were still 4.1% lower than 12 months earlier.
A key measure of consumer confidence remained unchanged in September.
The Conference Board said its consumer confidence index, which had dropped sharply in August, came in at 45.4 this month.
Economists had forecast an increase to 46.6 in September from 44.5 in August.
World markets: European stocks closed sharply higher. The DAX (DAX) in Germany surged 4.3%. Britain's FTSE 100 (UKX) jumped 3% and France's CAC 40 (CAC40) rallied 3.8%.
Asian markets ended higher. The Shanghai Composite (SHCOMP) added 0.9%, the Hang Seng (HSI) in Hong Kong gained 4.2%, and Japan's Nikkei (N225) ended the day up 2.82%,